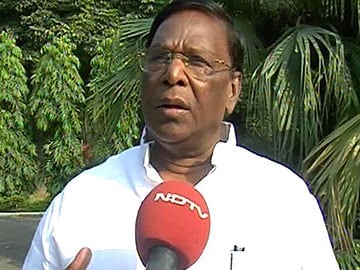 Puducherry:
The bandh call given by opposition Congress today to condemn the incident of detection of a suspected explosive device under Union Minister V Narayanasamy's car outside his home in Puducherry last week, was marred by incidents of stone pelting and a lathicharge, leaving a top state Congress committee secretary injured.
Police said five buses, including two Tamil Nadu government-owned vehicles and a lorry parked on roadsides were stoned by miscreants at various centres.
Puducherry Congress committee Secretary Sampath, heading a group of agitators squatting on the road, was injured after he allegedly got into a heated argument with police, resulting in police lathicharging the group to disperse them. He was later treated at the government hospital.
Police said more than 1,000 activists and functionaries of various wings of Congress courted arrest when they staged road roko in and around the union territory.
Shops, establishments and vegetable markets remained closed. All private buses and autos were off the roads while government run inter-state bus services operated under protection. Private schools also remained closed at most areas.
Former Agriculture Minister A Namassivayam and some other Congress leaders took strong exception to police trying to use force to disburse the agitators.
Former Chief Minister V Vaithilingam and PCC leader A V Subramanian demanded that police take action against the inspector who had tried to use force to disburse agitators.
Police were posted in strength at various vulnerable centres including the municipal bus stand at nearby Orleanpet.
On January 29, a pipe like device with two wires connected to it, sealed at both ends, was found by Narayanasamy's driver under the car, parked outside his residence.
The Union Minister had in a statement said detection of a "powerful pipe bomb" under the car confirmed his continued observation that law and order was in shambles in Puducherry.
On January 31, Chief Minister N Rangasamy said investigation into the case relating to the detection of the powerful pipe bomb has been handed over to National Investigation Agency.