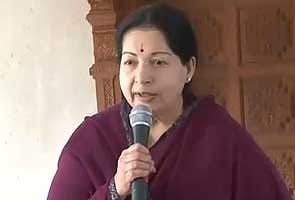 Chennai:
Reeling under 12-hour power cuts daily, the Jayalalithaa government in Tamil Nadu filed a petition today in the Supreme Court accusing the Centre of not providing enough power from the Central grid.
Currently, Tamil Nadu suffers a power deficit of around 4,000 MW. Chief Minister Jayalalithaa had earlier said that she had repeatedly requested Prime Minister Manmohan Singh for additional 1,000 MW power for a year, but the Centre did not accede to her request.
Tamil Nadu's petition wants Delhi to surrender 1070 MW of power to the central grid and that should be allocated to Tamil Nadu.
Blaming the Central government for the crisis, Ms Jayalalithaa had said that though her government contracted to source 500 MW from Gujarat, it was able to get only 235 MW owing to congestion in the transmission corridor.
Another contract for purchase of 1,100 MW was entered into, but owing again to congestion in the transmission corridor, only 85 MW is being obtained.
She said it was the responsibility of the Central government to set up transmission corridors. She blamed the Central government for ignoring the needs for such corridors for the southern states. The petition today is likely to make these points in court.
On Friday, the Chief Minister assured the people that the power situation in the state would improve from November on and the state would be free of power crises after 2013.
Addressing the people on the power situation in the state, Jayalalithaa said: "Now several new power projects are in various stages of completion. From November onwards, new power projects will start functioning one by one. Before November, there will be good improvement in the power situation."
She assured the people that by the end of 2013, the power shortage issue would be resolved. She accused the previous DMK government of not launching any major power projects, neglecting the long-term interests of the state.
Ms Jayalalithaa said that in 2006, when the AIADMK lost power in the state, there was surplus power. But the succeeding DMK government did not implement schemes started by her government.
With demand for power increasing in the state, the DMK government, instead of starting new power projects, purchased power at high cost. That in turn resulted in the state electricity board incurring a huge loss of Rs 40,375 crore, she said.
Ms Jayalalithaa wondered why the Union ministers from the state belonging to DMK and the Congress had not compelled the Centre to set up the transmission corridor for Tamil Nadu. "Had they so willed it, they could have accomplished the task," she said.