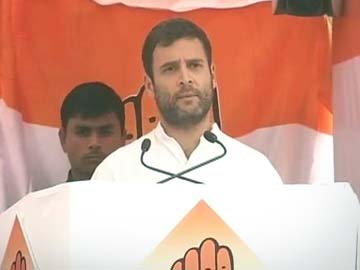 Tumkur, Karnataka:
In a veiled attack on BJP and RSS, Rahul Gandhi today said the opposition does not respect women and their 'ideological sangathan' has no place for them.
"Their ideological sangathan has no place for women. Their leader, what he says and what he does, you know it. I do not have to elaborate," he told an all-women's rally in Tumkur, Karnataka.
The Congress Vice President made a strong pitch for women's empowerment, saying the party's aim was to bring more women forward in the election process.
"India can't be a superpower until we empower women.
Wherever women are being empowered and given a chance, those states are progressing rapidly," he said.
"We want to give women an equal chance in politics... In panchayats, in the Assembly, in Parliament, more women should be visible," he said.
The Congress leader said he wished to ensure there comes a day when women could walk without fear "in the evenings, nights and in buses. I want them represented in every sector with safety, freedom and no fear".
Gandhi said the Uttar Pradesh government had taken a leaf from Congress-ruled Karnataka and implemented the Women's Self Help Group Scheme.
Referring to the Women's Reservation Bill, he expressed the hope it would be passed in Parliament.
He listed out various welfare programmes of the UPA government like MNREGA and Food Bill, which, he said, were implemented mainly for the benefit of women.
The UPA government, he said, has also worked on anti-rape laws.
"We want to use your strength in the progress of this country. We want to open doors for women, doors of schools, hospitals and Parliament, as without you, there is no progress," he added.