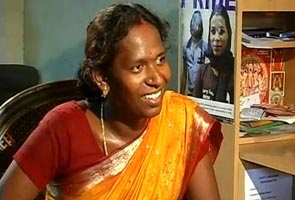 Chennai:
The results for the civil services examination that were out yesterday have a fine blend of achievers - men, women and even physically challenged. But the country's top bureaucracy is not yet open for transgenders. One such civil services aspirant from Madurai is taking on the government head on, demanding equity.
When she was 18, Ms Swapna's parents chased her away from home just because she was a transgender. She begged on the streets to pay for her studies to realise her dream to become the first transgender to clear the IAS. But after graduation, a rude shock awaited her. Civil Services had no place for the third gender and she had to apply only as a female candidate.
"The application form offers only two options, male and female. When I received my admit card for the preliminary exam I wasn't comfortable. I'm not a female and how can I be forced to assume that sex. I was also worried, what if a flying squad member drags me out of the hall saying I'm cheating?" she told NDTV.
The Union Public Service Commission (UPSC) that conducts these exams turned down her RTI petition asking her to approach the government. But Swapna has decided to pursue the issue. "Canada and Thailand have recognised transgenders as the third sex. They even train them to participate in the next Olympics. But in India we still let transgenders beg," she said.
Supporting Swapna is Ms Rose Venkatesan, India's first transgender television host who also made colleges admit the third sex in Tamil Nadu a few years ago. "The community is fighting the stigma of flesh trade and begging; ending the discrimination in government jobs will be a great incentive to join mainstream society through education," she said.
Often the government stops with giving ration cards and voter IDs to transgenders. But the community wants something beyond tokenism which would pave way for a dignified life.