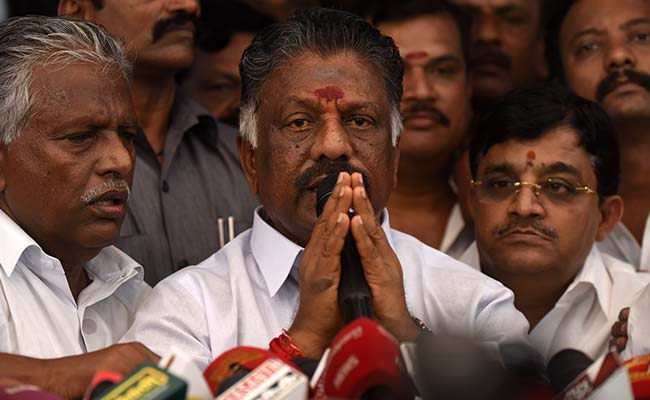 Theni/Chennai:
Senior AIADMK leader and Deputy Chief Minister O Panneerselvam today said his revolt against VK Sasikala had succeeded because it had brought together factions led by him and Chief Minister K Palaniswami.
Mr Panneerselvam was asked by reporters at Theni if the goal of his "
Dharma Yudham
" against Sasikala, close aide of late chief minister J Jayalalithaa, had been achieved.
"For sure, the objective is fulfilled," he said.
A stable government was in place in Tamil Nadu, he added.
"We have come together and a stable regime is on," he said, in an obvious reference to the factional unity and the ouster of jailed leader Ms Sasikala and her nephew TTV Dhinakaran last year from the party.
After raising the banner of revolt against Ms Sasikala on this day last year, Mr Panneerselvam, then chief minister, had called it a "
Dharma Yudham
(war of principles)".
He had asserted that only a person chosen by both the people and cadres should succeed him in the government and take charge of the party.
Mr Panneerselvam today recalled the AIADMK's history and said both party founder M G Ramachandran and Jayalalithaa had led the party as a cadre-based outfit, an indication of his opposition to Ms Sasikala and her family's dominance in party affairs.
"We too had stressed that the party should continue to be so (giving prominence to cadres rather than a family)," he said.
Mr Panneerselvam had rebelled just before Ms Sasikala was jailed in a disproportionate assets case in February last year.
Breaking a 40-minute long meditation spell in front of the burial site of Jayalalithaa at Marina beach close to 10 PM on February 7, 2017, Mr Panneerselvam had said he had been insulted and forced to resign to pave the way for Ms Sasikala's elevation as the state chief minister.
Following the revolt, Mr Dhinakaran was brought into the party again to helm the outfit by Ms Sasikala just before she went to jail and Mr Palaniswami became the chief minister.
The two factions merged in August last year.
Former minister and O Panneerselvam loyalist K P Munusamy told reporters in Chennai today, "Our '
Dharma Yudham
' is over and under the leadership of two big leaders (Panneerselvam and Palaniswami) the party and government are functioning well."
Amid speculation of discontent among a section of Mr Panneerselvam loyalists after the merger, Mr Munusamy was asked if workers were functioning cordially and had accepted the leadership of Panneerselvam and Palaniswami.
"We have joined," he replied.
Now the term "Dharma Yudham" will only mean service to the people and the country, Munuswamy said.
"Leaders and cadres of the party will work for the people with devotion," he added.