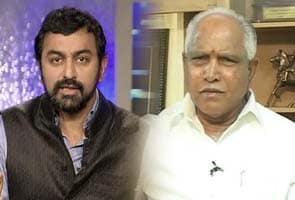 Former Karnataka Chief Minister BS Yeddyurappa says he is disappointed with the BJP leadership and will have no further discussions with anyone. He also says he is not going to destabilise the Karnataka government but at least 50-60 legislators will join him in his new party.

Highlights of an exclusive interview with NDTV's Sreenivasan Jain.
Sadanand Gowda promised me that he will resign from the Chief Minsiter's post. But central leadership told him not to resign.
I was the one who made Sadanand Gowda the chief minister and then Jagadish Shettar.
Nitin Gadkari promised me, ministers met him and he promised them too that he will make Yeddyurappa the President of the party. He gave the statement a number of times.
No question of discussing anything with central or state leaders. I have decided to quit the party.
Ananth kumar wants to become the Chief Minister of Karnataka. He is forcing leaders to make him that.
False allegations are being made against me. CBI report very clear that I am not responsible. I am honest, not worried about anything.
I will prove that they are false allegations, will face them in court.
We are not going to destabilise the Karnataka government. I made him (Jagadish Shettar ) the Chief Minister. I don't want the public to blame me.
Later my supporters will join my party, more than 50 to 60 MLAs will join.
Don't want to comment on Nitin Gadkari. Entire country knows all the details.
I have my own vision of Karnataka and I am forming my own party.
I have got very good public support and we will get good results in the next elections.
Here in the interests of the state I am resigning; people have complete faith in me and this is the best time to launch a party.
The question of RSS support doesn't arise.
I will contest all 224 seats in Karnataka. Already formed a sub-committee for manifesto or the agenda.
We will formally launch the party on December 9.
Our agenda is to protect the land, water, culture and language of Karnataka.
I am the first man to get 19 seats. All communities are supporting me. I am not a Lingayat leader. That's why all parties are afraid of me.
I am far away from that party (BJP). I don't want to take their name. I don't want any connection with them in future.
I don't want to comment on LK Advani or any other leaders, now that I am quitting the party.
Met him (LK Advani) to discuss Karnataka situation. Couldn't convince him. Now there will be no discussion with anyone in BJP.
On his support for Modi
- When I was in that party, I openly expressed my opinion. Don't want to comment now.