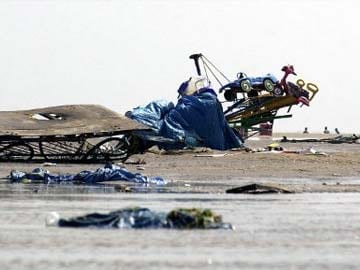 Chennai:
The fishing community in coastal Tamil Nadu, badly battered by the killer tsunami of 2004, now sports its original attitude - work and earn your livelihood rather than expecting doles, fishermen and NGO officials said. Post tsunami the fishing community also ensures that its children get educated at any cost while widow remarriage is not frowned upon.
On December 26, 2004, a devastating tsunami triggered by an undersea quake off Sumatra in Indonesia hit Tamil Nadu's coast in Nagapattinam, Cuddalore, Chennai and Kanyakumari. The killer waves claimed around 8,000 lives - men, women and children. Some 6,100 died in Nagapattinam alone. Over 230,000 were killed in the tsunami in Indonesia, Sri Lanka, India, Thailand and the Maldives.
Following the tsunami there was flood of relief material and money to help the affected community to rebuild their lives.
"Normally the fishing community never expects any doles. On the other hand we used to help others. But tsunami changed that. For a long time, the community looked out for doles," said Kaliyammal Rathinavel, working with an NGO in Nagapattinam.
Hailing from a coastal village near Sirkazhi in Nagapattinam district, Kaliyammal's family fortunes turned upside down after the killer wave struck her home on the fateful day washing away all the savings, jewellery and her father's livelihood assets like fishing boats, nets and others.
Kurumtanai C. Berlin, associated with NGO Neithal Makkal Iyyakam in Kanyakumari district told IANS: "Before the tsunami, fishermen were confident and stood on their own legs. They believed that Mother Sea would provide for them."
With the tsunami taking away their fishing assets, lifetime savings and also their homes, the fishermen initially started looking out for doles. That continued for a long time till the freebies/doles ended, Berlin said.
"Today, it is back to their original nature - work and earn your livelihood," he said.
"For some time, fishermen looked out for doles as they feared the sea and also lost their belongings. With the relief funds and material they rebuilt their homes and lives. Now that relief material and funds have stopped, the fishermen have returned to their original culture," L. Milton a fishermen in Kottilpadu village in Kanyakumari district told IANS.
Another change in the fishermen's outlook is the acceptance of widow remarriage and getting their children educated.
The killer wave left several children motherless and wives spouseless. So, out of necessity, widow remarriage gained acceptance within the fishing community in Nagapattinam.
"Soon after the tsunami, there were a lot of widow remarriages. The various NGOs who came here for relief work stressed on the need for education. Realising the importance of this, fishermen send their children to school," G.Thiruvalarchelvan of Akkaraipettai village told IANS.
Though the scars of the tsunami are still there, the people have moved ahead to rebound with whatever was available.
But what worries the fishermen in Nagapattinam is the constant attacks on them by the Sri Lankan Navy even in Indian waters, Thiruvalarchelvan said.
On Tuesday, the fishermen withdrew a hunger strike following the assurance given by Chief Minister J. Jayalalithaa that action will be taken to secure the release of 210 fishermen in Sri Lankan jails and their boats, he said.