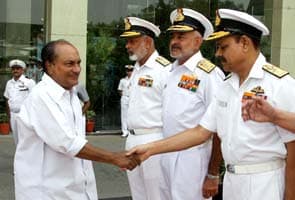 New Delhi:
Defence Minister AK Antony has issued strict instructions to the Navy to provide full support in the investigations into wife swapping allegations.
The Kerala and Delhi Police are carrying out two separate investigations into the allegations of wife swapping leveled by the spouse of a Navy officer against her husband and his senior colleagues.
The woman has filed a complaint with the Harbour police station in Kochi and the Vasant Vihar police station in Delhi, alleging she was molested by senior officers in her husband's presence.
After the matter came to light, Mr Antony had sought a report from the Navy on the allegations.
The Navy has been consistently defending its officers and issued a statement, saying, "The wife of the officer has levelled unfair allegations against superior officers in her husband's chain of command, their spouses and other officers who have interacted with her.
"These officers accompanied by their respective spouses had tried to unsuccessfully resolve the issues dogging the couple's personal life in a bid to leverage the strength of the Naval community bond," it had said.
The Navy had conveyed the same to the Defence Ministry in its report.