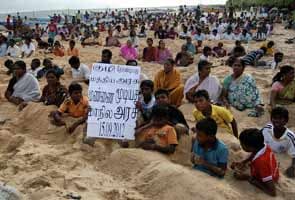 Chennai:
Villagers around the Kudankulam nuclear plant in Tamil Nadu are intensifying their protests following the loading of nuclear fuel in the plant. Around 1500 protesters have remained buried in neck deep sand at Idinthakarai since 10 am today. They will end their protest at 4 pm today.
MDMK leader Vaiko and anti-nuclear activist Udayakumar joined the protest and buried themselves in sand.
These anti-nuclear activists had yesterday picketed Central government offices in Kudankulam and many parts of Tamil Nadu. In some areas, they even occupied village cemeteries symbolically seeking the help of their ancestors.
Two weeks ago, around 10,000 villagers went on a rally to the plant which led to tear gas firing and lathicharge by the police after which villagers led a jal satyagraha in the sea and laid siege to the Tuticorin port as well.
On Saturday, nearly thousand fishing boats blocked entry to the Tuticorin harbour, which is situated around 60 miles away from the nuclear power plant.
The loading of nuclear fuel, which is on at one of the reactors at the Kudankulam plant, has not in the least dented the determination of the protesters, all fishermen hailing from the districts of Tuticorin, Kanyakumari and Tirunelveli - where the plant is located.
These fishermen are worried that the plant, once commissioned, will destroy their livelihood. Subash Fernando, Spokesperson of the Agitation Committee, says, "Once the plant is commissioned, the radiation from it would disqualify our catch for export to the European market, and even if nuclear fuel is loaded, it's not too late to stop it".
Two expert committees appointed by the government have found the plant to be safe, dubbing public fears unfounded. Tamil Nadu Chief Minister J Jayalalithaa, who initially supported the cause of the movement, later did a U-turn, citing that the project could bring relief to the state which is reeling under a severe power shortage.
Around a lakh and half people, who live in the vicinity, are opposed to the plant. "If India believes in democracy, the government should listen to the people. If Japan could have a Fukushima disaster, imagine what could happen in India which was also hit by a tsunami not long ago," said a villager.
Presently, the Supreme Court is hearing a petition that challenges the go-ahead given to the nuclear plant. Petitioners cite that the plant is yet to incorporate 11 of the 17 safety recommendations made by a government task force after the Fukushima disaster. However, the atomic energy department claims these are only enhanced safety features which would be implemented in phases.
The Kudankulam power plant is the first nuclear project to near completion after the Fukushima disaster. Some countries like Germany have decided to turn away from nuclear energy and the international community is keenly watching how India handles the rising opposition to the project.