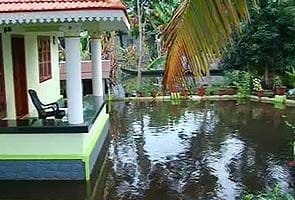 Kuttanad:
Over 2,000 homes have been damaged and almost 50 per cent of the crops have been destroyed in Kuttanad after it was hit by the worst floods the area has seen in the last seven years, official estimates show. Adding to the woes of the residents is the lack of clean drinking water here.
Popularly known as the 'rice bowl' of Kerala, Kuttanad is one of the few regions of the world that produces rice at the below mean sea level. For the residents, the monsoon has always been a cause of worry. Courtyards filled with water, inundated homes, and people sleeping on elevated beds are a common sight here during the monsoon.
Monsoon here means flooded schools, lack of potable water, and agricultural collapse, Gylvyster Ousther, a businessman from that region says. Being a low-lying area all harmful pesticides used nearby get collected here.
Here, house boats play an equally damaging role in contaminating the drinking water by emptying their waste and sewage into the river itself. The collapse of sanitary facilities within inundated homes result in human faeces mixing with the river. Without a single pipeline laid for providing residents with safe drinking water, they are forced to depend on the contaminated river water for survival.
Even measures taken to limit the damage caused by floods have backfired. Environmentalists say river spillways, regulators, earthen bandhs, which were built, under a special programme have worsened the flood situation. Poorly planned constructions in Kuttanad and surrounding areas have encroached into the space meant for the rivers.
Sekhar Kuriakose, the Nodal Officer for State Disaster Management, says the roads which have been constructed, should have been elevated, and with all the construction there is no space left for the river. "The locals need to be involved on the planning process and their indigenous ideas considered while planning for Kuttanad as a whole if this problem needs to be solved," Mr Kuriakose asserts.
According to sources, the special package which was launched in 2008 for Kuttanad has failed to get results due to lack of inter-departmental coordination within the government. The government has yet to rectify its mistakes, but in the meantime, the residents here continue to suffer.