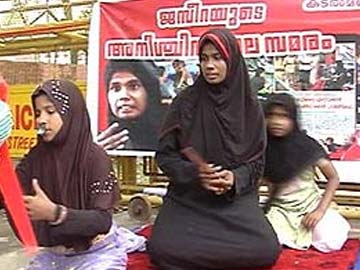 New Delhi:
A woman from Kerala, who was protesting at Jantar Mantar in New Delhi seeking action against sand mining mafia in the state, ended her nearly four-month long agitation after Chief Minister Oommen Chandy gave her assurance in this regard.
"The Chief Minister has assured me that his government would take strong steps to protect the state's coastal areas from the sand mining mafia," Jazeera, who met Mr Chandy at Kerala House, said.
She claimed that her agitation helped create awareness among massess about the urgent need for protecting coastal environment.
Jazeera said that he would fight elections against Congress MLA from Kannur A P Abdullakutty, who questioned her integrity.
Union Minister Jairam Ramesh had supported Jazeera's agitation and had written a personal letter to Mr Chandy.
In his letter, Ramesh had said that Jazeera's demand has "merit" as she is opposing illegal sand mining.
She was accompanied by her three young children and they had been sitting on a 'dharna' at Jantar Mantar since October 6.
The National Human Rights Commission had also taken suo motu cognisance of allegations of illegal sand mining in coastal Kerala.
The Commission had expressed concern over discontinuation of school education of Jazeera's two daughters, Rizvana (12) and Shifana (10) as they were part of her sit-in agitation and had asked the state government to file a report.
Jazeera had protested outside the Secretariat in Thiruvananthapuram for 64 days, after which Mr Chandy assured her of action. She came to Delhi claiming that Mr Chandy's assurance was not fulfilled.