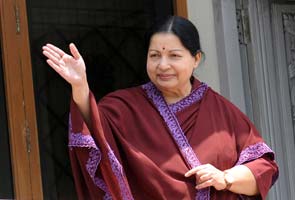 Chennai:
Tamil Nadu Chief Minister J Jayalalithaa, who turns 65 today, has exhorted her party cadre to not indulge in ostentatious celebrations to mark the occasion. The AIADMK chief is unlikely to make a public appearance today.
Amma, as she is popularly known amongst her followers, has said that the best birthday gift to her would be if her party workers could ensure that the AIADMK wins all the 40 Lok Sabha seats in the state and Puducherry combined in the 2014 general elections.
The Chief Minister has also urged her followers to involve themselves in welfare activities instead of holding any celebratory events in her honour.
Party workers marked the occasion by distributing clothes and other assistance to the poor across the state. Special prayers for the Chief Minister have also been organised.
At the party headquarters, ministers could not resist indulging in some celebrations - they cut a giant 65-kg cake and distributed it to the public.
Born in Karnataka in 1948, Ms Jayalalithaa held sway as an actress in the southern film industry before turning her attention to politics. She was first elected to the Tamil Nadu Assembly in 1989 and made her debut as Chief Minister of the state in 1991. She is currently serving her third term as Chief Minister.