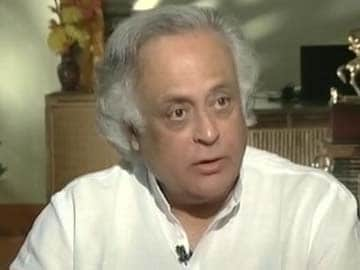 New Delhi:
Union Minister Jairam Ramesh today welcomed the Supreme Court ban on the use of bulls for the Jallikattu events or bullock-cart races across the country and expressed hope that it will put an end to a barbaric practice.
During his stint as the Environment Minister in 2011, Mr Ramesh, in response to pleas made by a large number of animal activists across the country, had taken the initiative to ban the use of bulls in Jallikattu, a bull-taming sport played in Tamil Nadu during Pongal celebrations.
Mr Ramesh said, that the notification banning the use of bulls as performing animals was issued under Section 22 of the Prevention of Cruelty to Animals Act, 1960. "Today the Supreme Court has upheld that order and has struck down the Tamil Nadu Jallikattu Act, 2009 as well as the Ministry of Environment and Forest's subsequent affidavit withdrawing July 11, 2011 notification.
"I welcome the Supreme Court judgement. It will put an end to a barbaric practice," the Rural Development Minister told PTI. In its order, the apex court directed governments and Animal Welfare Board of India (AWBI) to take steps to prevent the infliction of unnecessary pain or suffering on the animals saying they have inherent dignity and a right to live peacefully and to protect their well-being.
Chairperson, Humane Society International, Nandita Krishna said that by its historic verdict, the Supreme Court has vindicated Ramesh's position and upheld the ban. "I must particularly mention and thank Ramesh who, as Minister for Environment and Forests, banned the use of bulls as performing animals in 2011.
"Subsequently, the Tamil Nadu government permitted Jallikattu through the Tamil Nadu Jallikattu Regulation Act of 2009, while the Ministry of Environment and Forests withdrew its own Gazette notification through an affidavit to the Supreme Court this year," Ms Krishna said in a release.