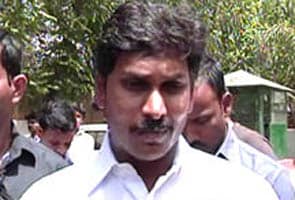 Hyderabad:
Opposing the bifurcation of Andhra Pradesh, YSR Congress party president Y.S. Jagan Mohan Reddy began an indefinite fast on Sunday inside the Chanchalguda Central Jail in Hyderabad.
Jagan, as the MP from Kadapa is popularly known, refused tea and breakfast on Sunday morning, as his fast began.
Although the party announced that its leader was on fast, jail officials said they did not know of the development, and said Jagan had not sought permission for the fast. The jail officials said they would offer a response in the matter in 24 hours.
Prison authorities have already warned that if Jagan goes on fast, he will lose the opportunity to meet any visitors. They indicated that he may also lose the privileges he currently enjoys as special class prisoner.
Jagan, who has been lodged in jail for over a year in a disproportionate assets case, began the fast a day after police forcibly ended his mother Y.S. Vijayamma's fast in Guntur.
Vijayamma, who was shifted to hospital from a hunger strike camp, called off her fast on the sixth day, on a request from her son.
The YSR Congress has been demanding that Andhra Pradesh not be bifurcated, if the centre cannot do justice to all its regions. Vijayamma alleged that the Congress Working Committee took a decision to divide the state without doing justice to all the regions.
Jagan Mohan Reddy recently sent his resignation to the Lok Sabha speaker to oppose the bifurcation. Another MP, M. Rajamohan Reddy, has also submitted his resignation.
All 17 state legislators of the party, including Vijayamma, have also quit, to protest the manner in which the Congress dealt with the Telangana issue.