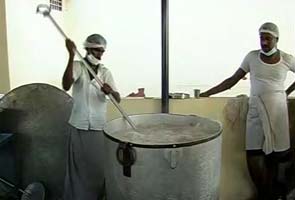 Thiruvananthapuram:
These are busy days for inmates of Thiruvananthapuram Central Prison. A team of 100 inmates is cooking rice, sambhar and organic vegetables as part of the government's scheme 'Hunger Free City' to provide free meals to those Below Poverty Line (BPL).
The prisoners get little after midnight to cook and pack the food. They are working so hard because prison authorities are paying Rs 117 per day for the job, the maximum that anyone can earn.
Codenamed 'Operation Satisfaction' by prison authorities, the target is to be able to cook 2000 meal packets for BPL patients of the Government Medical College.
"This is an effort to ensure hungry bellies would have food and not ashes," said MK Muneer, Social Welfare Minister and in-charge of the project.
Under the scheme, the meals will be given free to the BPL patients and by-standers of medical college and the prison department will get Rs 20 for each meal given out.
"Inmates are very happy to be part of this programme. They are taking this as a chance to serve the society," said B Pradeep, DIG Prisons.
Soshamma, a labourer, with the free meal packet in her hand, says this initiative is a blessing for many like her. Others, however, are skeptical about how long the scheme will run. "Let's see if we continue to get it," said Sunil, another labourer.
Government officials say that nearly 500 people in Thiruvananthapuram itself would be sleeping without any meal on a given day.
The viability of this project is evident from the inter-departmental coordination but red-tapism and lack of check mechanisms need to be overcome to ensure its continued effectiveness.