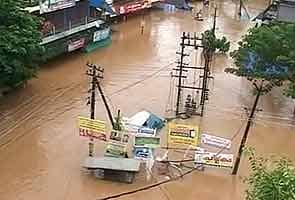 Kozhikode:
With the recovery of two more bodies, the toll in landslides and flash floods triggered by heavy rain in Kozhikode district has risen to five even as the government sought help of the Navy and National Disaster Rescue Force in relief operations.
Search for three more persons reportedly missing are in progress, officials said.
Naval sources said that two teams of naval personnel have already left for Kozhikode and Kannur districts.
Heavy rain had wrought havoc in Pulloorampara hill region of Kozhikode and Iritty in Kannur district.
The teams had been sent on request from the state government. Each team consists of five divers and a doctor, naval sources said.
Bodies of two men, including that of an aged person, and a woman were recovered today.
Earlier, a 75-year-old man, who was injured when flash floods washed away his house yesterday, succumbed to injuries in hospital today, police said.
The body of a three-year-old boy was recovered yesterday.
Rescue operations were hampered by the heavy rain in the morning, but with a let-up in the downpour at Pullorampara, relief works had been speeded up, sources said.
About 30 houses have been washed away in flash floods.
The downpour caused four landslips in Pullorampara and several roads were swept away while large boulders and stones fell on the roads. Two small bridges connecting the region to Kuttiyadi and Mananthavadi have been submerged.
Though there was a let-up in the rain that has been lashing Iritty in Kannur district since yesterday, heavy rains followed by landslips occurred in the region this morning, inundating low lying areas. About 120 shops in Iritty town were submerged, sources said.
A team of National Disaster Rescue Force will arrive in Kannur shortly for rescue and relief work, officials said.
Home Minister Thiruvanchoor Radhakrishnan, who visited Iritty, told reporters government will take steps to mitigate the suffering of people due to rain.