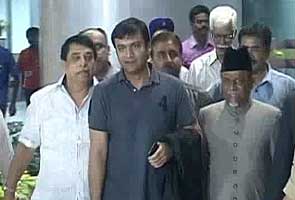 Hyderabad:
Andhra Pradesh politician Akbaruddin Owaisi has sought time for four days to appear before the police for allegedly making inflammatory speeches. Mr Owaisi has been booked in three different 'hate speech' cases and was asked to appear before the police today.
The 42-year-old leader of the All India Majlis-e-Ittehadul Muslimeen (AIMIM) arrived in Hyderabad from London in the wee hours today, where he had been undergoing treatment for intestinal injuries that he sustained when he was attacked by rivals over a land dispute.
Mr Owaisi's supporters accompanied him in a rally to his home from the airport in a show of strength.
His brother and Hyderabad MP Asaduddin Owaisi had told NDTV on Saturday that Akbaruddin will not run away from the law. "My brother will not run away from the law. We are not against Hindus. We are against the BJP and Kiran Kumar Reddy," he said. Mr Reddy is the Chief Minister of the Congress government in Andhra Pradesh. Mr Owaisi's MIM withdrew support from Mr Reddy's government two months ago.
The police booked two First Information Reports (FIRs) suo moto against Akbaruddin Owaisi for allegedly using inflammatory language against a particular community during public speeches last month. One of those speeches was delivered in the Nirmal town of Adilabad district on December 24. Mr Owaisi has been directed to appear before the police in Adilabad on January 7 and in Nizambad town on January 8.
The notices were pasted outside Mr Owaisi's home at Banjara Hills in Hyderabad. A third FIR was booked by the Osmania University police on the directions of a Hyderabad court.
The junior Owaisi is expected to go to Nirmal town with his elder brother and lawyer Rasool Khan. Meanwhile, prohibitory orders have reportedly been imposed in the town as a precautionary step.
Mr Owaisi has been booked for promoting enmity between different groups on grounds of religion and deliberate and malicious acts intended to outrage religious feelings of any class by insulting its religion or religious beliefs. He has also been booked for waging or attempting to wage war against the Government of India.
Asaduddin Owaisi has, meanwhile, said there is reason to suspect that if the MIM had not parted ways with the Congress, his brother would not have been facing a slew of charges today.