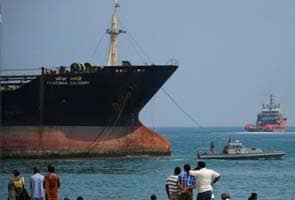 Chennai:
The grounded ship MT Pratibha Cauvery has been salvaged by a towing vessel Malavya. The ship, which had run aground on October 31 under the impact of strong winds when cyclone Nilam struck, has been pulled into the sea by the towing vessel. It is now headed towards Chennai port's outer anchorage.
"The salvage has been successfully completed. Most importantly, it has been completed without any oil spill (from the ship)," Shipping Minister G K Vasan said, after inspecting the salvage operations today. The oil tanker is carrying around 300 tonnes of fuel and environmentalists were worried about any possible spill in the sea.
Mr Vasan added that the ballast water in the ship had been drained, enabling it to float again. The 9,000 tonne of ballast water the ship was carrying was being pumped out since yesterday to decrease the ship's weight.
The ship ran aground near Chennai's Besant Nagar beach when cyclone Nilam made landfall near Mahaballiburam. The same night the ship moved closer to the Marina beach. Six of its sailors died after the lifeboat they were escaping in capsized on the way to the shore. Operations to salvage the oil tanker had begun four days ago.
The Madras High Court has directed authorities not to let the ship move out of Chennai waters following a petition by a family of a deceased sailor. The petition seeks an interim compensation of Rs. 25 lakh to the family of each sailor who was killed in the tragedy and an eventual settlement of Rs. one crore each. The petitioner claims the ship was not sea worthy, it was low on fuel, it had no power and the crew members were without food and water on board.
The shipping ministry will also ask MT Pratibha Cauvery's owners to compensate the families of the sailors who lost their life, Mr Vasan said. He added that a detailed report on the incident will be released in a month after the DG Shipping completes its enquiry.
(With inputs from PTI)