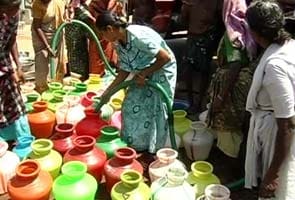 Thiruvananthapuram:
For the first time, a drought has been declared in every single one of Kerala's 14 districts.
The worst-hit areas are in districts of central Kerala, bordering Tamil Nadu. A weak monsoon dealt the first blow. Then, the main source of water in this region - the Aliyar dam - is running low. Tamil Nadu says severe drought in its own districts is the reason behind the release of less water.
The district of Palakkad, known as "the vegetable bowl" of Kerala, is irrigated by seven main dams and several smaller ones. Most are dry.
Pangajam in her 40s, a farmer's wife says," There is no drinking water. We get drinking water once in 15 days and every three days, a water tanker arrives. It is tough but what can we do?"
Over the last few years, as farms have multiplied and regular wells have run dry, farmers have been forced to dig bore-wells.
Reports suggest as many as 3000 bore-wells in the drought-hit area of Chittoor in Palakkad.
Government officials say it's hard to know the exact count, but concede that as a result, the ground water level has dipped alarmingly and that ground water levels are depleting with low levels witnessed in 86% wells.
Mahesh, a farmer who owns two hectares of land, says he has just had a fifth borewell installed on his farm." I hope I'll be able to get some water to keep my crops alive. The other four have dried up," he said.
Palakkad also has many water-based industries like Pepsi co, Kingfisher and breweries which have been heavily relying on ground water from compressor borewells. They were asked by the local administration on April 1 to reduce ground water extraction by 50 percent with immediate effect. But no system has been introduced to check on whether that's being followed.
The District Collector, M Ali Asgar Pasha, lamenting the lack of rain harvesting says, he has publicised and promoted the idea as much as he can, but there is no response at the village council or panchayat level."
The worst signs of the depleting levels of ground water can be seen in Kerala's typical feature, the coconut plantations. The yellow patches on top of these trees stretch out for miles, an ominous reminder of what's at stake.