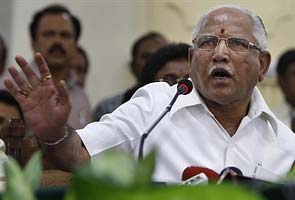 Bangalore:
Former Karnataka Chief Minister BS Yeddyurappa will not participate in the national executive meet of the Bharatiya Janata Party (BJP) scheduled to be held in Mumbai on May 24 and 25.
"There is political indecisiveness in the state BJP. I have decided not to participate in the BJP executive meeting. There is need for introspection." Mr Yeddyurappa said today.
Earlier this week, Gujarat Chief Minister Narendra Modi had also indicated that he will skip the meeting.
"Modi has become a statesman of this country, has gained wide acceptability, but our own party hasn't given him the prominence due to him," Mr Yeddyurappa told the media today.
The former Karnataka Chief Minister today said that the voices of senior BJP leaders like Arun Jaitley and Sushma Swaraj are being stifled within the party. He once again blamed senior BJP leader Ananth Kumar for the crisis in the party.
Mr Yeddyurappa has given the BJP much to worry about this week. His decision to miss the big BJP meeting comes five days after he stopped just short of quitting the party along with a large group of supporters. Addressing a large media contingent on Monday, Mr Yeddyurappa announced that he is not quitting the party, but has support of 70 of the party's 121 MLAs. The warning came with a reassertion of his demand that current Chief Minister, Sadananda Gowda, be replaced. Nine months ago, when he was forced to resign as Chief Minister, it was Mr Yeddyurappa who had hand-picked Mr Gowda as his successor. He now wants the head of the government to be picked from his Lingayat community.
Less than two days after Mr Yeddyurappa held that press conference in Bangalore, the Central Bureau of Investigation (CBI) conducted raids at eight of his premises, including properties of his sons and others as part of its ongoing investigation into an illegal mining case.
A First Information report (FIR) has been filed against Mr Yeddyurappa and he has been booked for criminal conspiracy and criminal breach of trust. The main allegation which Mr Yeddyurappa faces is that as Chief Minister, he used his public office to grant undue favours to mining companies which, in turn, made huge "donations" to the Prerna Education Society run by his family members.