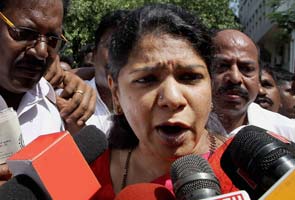 Chennai:
The election for six Rajya Sabha seats in Tamil Nadu is turning into a high-impact zone.
D Raja of the CPI is seeking re-election. So is M Kanimozhi, the daughter of the DMK president, M Karunanidhi. Their current term expires next month.
The election will be held on June 27. Six seats are up for grabs in Tamil Nadu. The ruling AIDMK party is contesting five.
The DMK does not have the numbers to get Kanimozhi elected, so it is seeking assistance from other parties. So is the CPI which doesn't have the numbers on its own to get Mr Raja elected.
The Press Trust of India reported on Saturday that Kanimozhi's assets have increased three-fold over the last six years from nine crores to nearly 27 crores, according to her nomination papers.
Political analysts say Mr Karunanidhi is hoping to ally with the Congress to get his daughter election. In March, his party quit the union government accusing it of not taking a firm enough stand at the UN against Sri Lanka over the alleged war crimes by its armed forces.
In 2011, Kanimozhi spent about six months in jail on charges that she helped her party colleague and former union minister A Raja accept a bribe from a telecom firm.