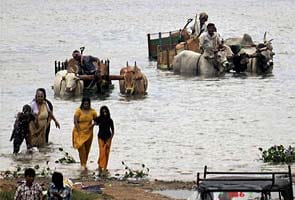 Hyderabad:
22 people have been killed in Andhra Pradesh as heavy rains continued to batter several regions under the influence of 'Cyclone Nilam'.
Coastal Andhra Pradesh continued to bear the brunt of the cyclone's fury as villages and towns were inundated by swollen rivulets.
The rainfall was such that Narasapur in West Godavari district received a record 31 cms of rainfall in the last 24 hours, followed by 27 cms in Amalapuram, 25 cms in Rajahmundry (both in East Godavari district), 25 cms in Yelamanchili (Visakhapatnam dist), 23 cms in Koderu (West Godavari district).
Standing crops, including paddy, were affected in 2,43,634 hectares. The death toll in rain-related incidents like wall collapse and drowning rose to 22, state disaster management commissioner T Radha told reporters today. The government has set up 86 relief camps in which about 68,000 people were provided shelter, he said.
Chief Minister N Kiran Kumar Reddy directed chief secretary Minnie Mathew to put all concerned departments on high alert and closely monitor the flood and heavy rains situation.
He reviewed the situation with the chief secretary and other senior officials from New Delhi over phone and asked them to make all efforts for relief and rescue measures. He also spoke to collectors of rain-hit districts, a release from the chief minister's office said.
The Chief Minister directed that people from the low lying areas of all districts to be evacuated wherever and whenever necessary and more relief camps be opened.
He asked the Chief Secretary and other officials to put the navy and other agencies on alert and see that people are evacuated if need be, by choppers and safety boats, the release said.
Mr Reddy also told the officials that the victims be provided drinking water, food and other essential things. Officials said houses were damaged - 472 fully and 718 partially - and 21 cattle also perished.
They said 495 kms of roads, 406 kms of drains, 107 kms water supply lines, 36 municipal buildings were damaged.
The cyclonic storm 'Nilam' crossed the Tamil Nadu coast last week and gradually weakened into a low-pressure area and the present rains are an effect of the cyclone.
The South Central Railway cancelled the Hyderabad-Howrah East Coast Express today. As many as nine trains, including Tirupati- Visakhapatnam Tirumala Express, Hyderabad-Visakhapatnam Godavari Express, were also affected.
Three trains -- Secunderabad-Howrah Falaknuma Express, Chennai-Asansol Express and Bangalore - Bhubaneswar Prashanti Express have been diverted, SCR said in a release. Four other trains were rescheduled.
The Road traffic was badly affected on the national highway as many trees got uprooted and several vehicles were stranded.
Allavaram Mandal recorded the highest rainfall of 290.6 mm over the last 24 hours while lowest rainfall of 58.4 mm was registered in Kirlamupudi mandal of the district.
In the forecast and farmers' weather bulletin valid until the morning of November 6, the met office said moderate to heavy rain or thundershowers would occur at most places in the districts of Srikakulam, Vizianagaram, Visakhapatnam, East and West Godavari in coastal Andhra, at many places in Telangana.
Isolated heavy to very heavy rains would occur in the districts of Srikakulam, Vizianagaram, Visakhapatnam, East and West Godavari districts of coastal Andhra. Isolated heavy rain would occur in the remaining coastal districts and Telangana during next 48 hours, an official release said.