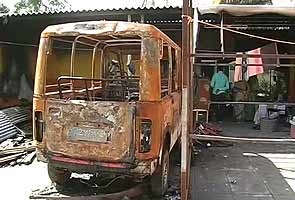 Chennai:
Three Dalit villages that showed phenomenal socio-economic development in Tamil Nadu's Dharmapuri district today stand gutted and ruined. More than 200 houses were burnt and looted here on November 7, allegedly by upper caste Vanniar community; their belongings, tools and vehicles reduced to ashes.
These villages were once under the grip of the Naxals. But now, the Vanniars, Dalits allege, are unleashing a reign of terror as they couldn't stand their economic development.
The trouble began with a love marriage between a Dalit man and a Vanniar woman over a month ago in the Natham village. The bride refused to return home and her embarrassed father committed suicide. The Dalits allege this enraged the Vanniars who then set the houses on fire and looted their cash and jewellery.
Dalits say their economic prosperity was the real target of attack. In the past the community served the Vanniars; now thanks to social justice reforms, many are entrepreneurs, employed in government and private sector. Duraisamy, a Dalit ex-serviceman who is also the uncle of the bridegroom, has lost all his property. He told NDTV, "For three generations our family has been sending our men to the Army. We had a huge collection of artefacts from all the places we had served, and all are gone now." He adds, "In education, economy and cleanliness we are much better now, that's a reason. We no longer go to them to work as slaves. We don't know why this casteist fanaticism."
Mr G Ramakrishnan, CPM state president, who visited the affected families, told NDTV, "The casteist forces are not able to tolerate the economic development of Dalits. It's a pre-planned attack to destroy their valuables."
Police have so far arrested around 200 Vanniar men and the district administration has recommended suspension of a few police officials for allegedly colluding with the dominant community. But there's an uneasy calm in the Vanniar dominant areas. The women here say without their men folk they remain confined to the village.
Thenmozhi, the mother of the bride, is in tears. She argues, "Dalits lure our Vanniar women into marriages. For them marrying our women is a mark of social upliftment. Why can't they marry any poor or abandoned women? Why should they target non-Dalit women alone? They lie and marry our women."
In the same village, another Vanniar woman, Gauri, fell in love and married a Dalit carpenter Ravi 25 years ago, defying opposition. Now the couple's workshop and property worth Rs 17 lakh have been destroyed. She says the government is perpetuating casteism. "There are only two castes," she says, adding, "male and female. We should change their heart. But the government is not doing that. It is only dividing people in the name of castes."
The Vanniars deny these charges. The Pattali Makkal Katchi (PMK) that champions their cause has already launched a campaign to stop Dalits from marrying non-Dalits. PMK chief Dr Ramadoss who recently convened a meeting of leaders from non-Dalit communities has sought a "probe by a former High Court Judge into such staged love marriages and make it public how young women and their families have been affected".
The Viduthalai Chirtuthaigal Katchi, the political face of Dalits, refutes Dr Ramadoss' allegations. Party chief Mr Thol Thirumavalavan said, "Love between two people of different castes is natural, no reasons can be ascribed. In fact the police should file a case against Dr Ramadoss for saying that Dalit boys sporting t-shirts, jeans and fancy glasses lure Vanniar women into marriages that don't work. He doesn't want Dalits to dress this way."
The Tamil Nadu government has ordered a probe by the state CB-CID, but Dalits are demanding a CBI probe. The state has awarded a compensation of Rs 50,000 for each Dalit family but they say they've suffered huge losses and there should be a through compensation that would help them rebuild their lives.
Certainly the very social transformation of Dalits is turning them into targets of attack by non-Dalits. Caste based political parties too seem to be fueling fresh divisions for political gains.