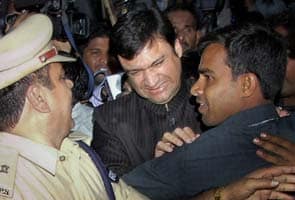 Karimnagar, Andhra Pradesh:
A local court on Tuesday directed the police to probe a complaint filed by Advocate Bethi Mahender Reddy against All India Majlis-e-Ittehad-ul Muslimeen (MIM) MLA Akbaruddin Owaisi for allegedly making objectionable remarks insulting Hindus and Hindu gods.
Mr Reddy alleged that on August 22, 2012, the MLA addressed a public meeting at Circus Grounds in Karimnagar town, where he made comments which "broke the hearts" of Hindus. He watched the speech on TV news channels, he said.
Mr Reddy has filed the complaint under various sections of the Indian Penal Code (IPC).
"Additional Judicial Magistrate (First Class) Kshama Deshpande directed the Karimnagar III Town police station to investigate the complaint and file a report," Mr Reddy's counsel said.