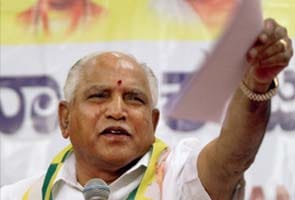 Bangalore:
Contrary to his earlier assertions of a decisive move on Friday to pull down the BJP government in Karnataka, the party's former leader B.S. Yeddyurappa deferred the plan to January 15.
"We will take a final decision January 15 as it is an auspicious day," Mr Yeddyurappa told reporters after the first meeting of the working committee of his new party, the Karnataka Janata Party (KJP).
The Bharatiya Janata Party's first chief minister in Karnataka, he was forced out of office in July 2011 over mining bribery charges, and formed the KJP after quitting BJP on November 30. He took over as KJP president on December 9.
January 15 is considered auspicious by many as the period of "Uttarayana" (Sun's journey to north) starts after "Makar Sankranti" (harvest festival) on January 14.
Mr Yeddyurappa, however, indicated that he was determined to make all-out efforts to prevent Chief Minister Jagadish Shettar from presenting the state budget in February, ahead of the assembly polls due in May.
"Myself and everyone in the working committee is opposed to budget presentation by Shettar as he has lost majority," he said.
"I do not think he will be able to present the budget," Mr Yeddyurappa said.
Mr Yeddyurappa claimed that about 15 BJP assembly members, out of 118 in the 225-member assembly, attended Friday's KJP working committee meeting, which indicated that Mr Shettar has no majority in the house.
He said all these BJP legislators were ready to quit the assembly and the BJP "right now but we asked them not to do so as we want to hold more consultations with all other BJP legislators supporting me on appropriate action and appropriate time for it".
Mr Yeddyurappa said that 40 to 50 BJP assembly members, including several ministers, were supporting him and "we will talk to them and take a final decision (on toppling the Shettar ministry) on January 15."
The 15 BJP assembly members had also shared the dais with Mr Yeddyurappa at a public meeting on December 9 when he took over as the chief of the KJP, which he formed soon after quitting the BJP.
The BJP has not taken action against them for fear of Mr Shettar ministry falling. State BJP chief K.S. Eshwarappa, however, says disciplinary action has been deferred as at least two of them have informed him that they would stay back with the BJP.
The state BJP coordination committee comprising, among others, Mr Shettar, Mr Eshwarappa, and party general secretary and Bangalore South Lok Sabha member H.N. Ananth Kumar is meeting in Bangalore on Saturday to take stock of the situation in the light of Friday's KJP decision.