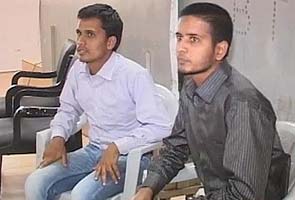 Bangalore:
The two slightly-built young men, sitting next to each other, still seem to be coming to terms with their changed circumstances. Even freedom, when it comes after six months in jail, can take some getting used to.
Syed Yusuf Nalaband, 25, and Muthi ur-Rehman Siddiqui, 27, were arrested in Bangalore in August and accused of being part of a plot to kill a Hindu journalist and right-wing leaders in the state. 11 other men, all Muslim, were also arrested. Mr Nalaband and Mr Siddiqui shared a house with some of them.
Speaking to NDTV, Mr Siddiqui, who used to work with the Deccan Herald, a prominent newspaper, says, "It wasn't an arrest, it was more of a kidnapping. We were completely numb. The situation was like we were thrown in a desert - and we could not find our way out. We were completely helpless and that was perhaps the toughest day of my life. Forget about mentioning the grounds for arrest, they abused us and took us away," he says.
Mr Nalaband, a salesman, says, "They took me because I am a Muslim. If I belonged to another religion, they would not have arrested me."
In a chargesheet filed last week, the National Investigation Agency (NIA), which handles cases of terror, did not mention either Mr Nalaband or Mr Siddiqui. Officers handling the case said there was no prosecutable evidence against them.
Mr Nalaband has still not decided what to do next. He has studied electronics and is trying to sort out his future.
Mr Siddiqui says, "I would like to go back to journalism and do things for people like me. Not just Muslims, but people who are denied justice and who are persecuted. There is also a sense of fair play. We can still hope that in the end we will get justice. Justice was delayed but it was not denied."