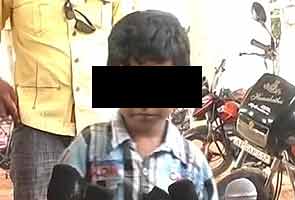 Hyderabad:
A private school in Andhra Pradesh's East Godavari district has been de-recognised after the district Education Officer filed a preliminary report into the allegation that a six-year-old boy was forced to drink urine by a teacher.
The East Godavari District Education Officer (DEO) Srinivasulu Reddy sent a preliminary report, after conducting a thorough inquiry, recommending district collector Neetu Kumari Prasad to de-recognise the school.
The boy claims that he along with three of his class mates had urinated in a tumbler, which they then left in the corner of the classroom. Upon finding the tumbler, the teacher asked the boy to drink it as punishment. When the boy resisted, the teacher forced some students to hold him down and forced his to drink it.
The parents filed a complaint against the teacher and the management of the school after the boy informed his parents about the incident.
"Someone passed urine in the mug and the teacher forced my son to drink. The teacher is on leave, it seems," the child's father told a local TV channel.
The police, who began investigation after the parents' complaint, say that the six-year-old later changed his stance saying that the teacher made other boys throw urine on him.
School authorities have denied the allegation. They claim that the boys urinated in a mug and threw the urine on each other.
The DEO has warned that similar action will be taken against educational institutions, managements and teachers, who take such action to discipline students.
(With inputs from agencies)