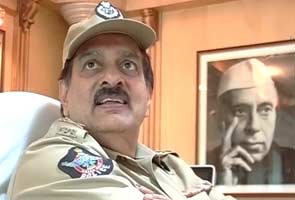 Hyderabad:
The Andhra Pradesh High Court has upheld the Central Administrative Tribunal's (CAT) decision to set aside the appointment of Andhra Pradesh Director General of Police (DGP) V Dinesh Reddy as the Head of Police Force by the state government. The court today rejected a plea challenging the order and asked the government to pay a fine of Rs 5000.
Following the CAT's order, the court has asked the state government to send a new list of senior-most IPS officers to the Union Public Service Commission (UPSC) within two weeks after which the state government can appoint a new DGP.
Earlier a petition challenged Mr Reddy's appointment, saying the criterion of merit and seniority prescribed by the central government in such an appointment was violated. The petitioner, Gautam Kumar, had said that the state government violated the Supreme Court order in Prakash Singh case wherein it had said that the state government should send a list of three senior-most IPS officers to the UPSC for the selection of the DGP.
Last year, the CAT had set aside the appointment of Aravind Rao to the top post on the basis of the same argument of Mr Kumar. Back then too, he had stated that Mr Kumar, along with another IPS officer KR Nandan, had been superseded and Mr Rao appointed instead. But the state government approached the High Court and obtained a stay on the CAT verdict, thereby allowing Mr Rao to continue as the DGP who retired on June 30 last year, after which Dinesh Reddy took over as the new DGP.
The Andhra Pradesh government in their defence had said they wanted a DGP with a longer tenure and at the time of his appointment Dinesh Reddy had over two years left in service.