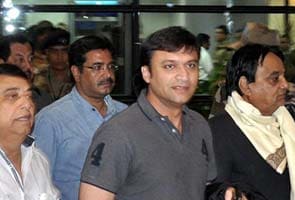 Hyderabad:
Government doctors accompanied the police for a house call on controversial politician Akbaruddin Owaisi in Hyderabad this evening. Mr Owaisi, who faces a slew of police cases for recent hate speeches, was scheduled to meet with the police today, but claimed he was unwell.
Mr Owaisi is a state legislator and belongs to the Majlis-e-Ittehadul Muslimeen (MIM) party in Andhra Pradesh, headed by his brother, Asaduddin, a parliamentarian.
He also appealed to the Andhra Pradesh High Court to cancel the cases filed against him for speeches delivered last month in a town named Nirmal in Adilabad, and in the Nizamabad district. Both were recorded on camera and broadcast on local channels partly owned by other members of Mr Owaisi's party.
The police has accused him of waging war against the state and of inciting communal hatred. The Director General of the state police, Dinesh Reddy said, "Due process of law is being followed. After investigation, if it is thought fit, he will be arrested.''
The speech in Adilabad, delivered on December 24, has been viewed more than 80,000 times on YouTube. The local police had summoned the politician today, but Mr Owaisi, who landed in Hyderabad from London this morning, asked for exemption for the next four days.
For weeks after Mr Owaisi's speeches, the police and government took no action against him. Complaints by private citizens, some of them affiliated to the opposition BJP, triggered some of the cases he now faces.