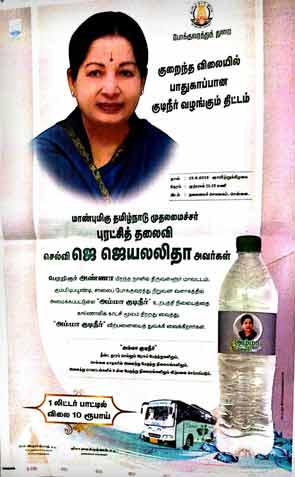 Chennai:
Riding high on the popularity of her 'Amma canteen', where idlis are supplied at one rupee, Tamil Nadu Chief Minister J Jayalalithaa launchd the 'Amma mineral water' scheme today.
Under the new initiative, packaged water bottles, priced at Rs 10 a litre, would be sold at bus stations in Chennai and all districts of Tamil Nadu. The water bottles, which will have stickers of the Tamil Nadu Chief Minister with "Amma" written on it, would also be available on government buses, plying long distances.
Ms Jayalalithaa inaugurated the first water plant, set up at the premises of the Road Transport Office at Gummidipoondi, outside Chennai, through video-conferencing. A total of nine such plants will be set up in phases by the state transport department across Tamil Nadu.
Manickam, a passenger returning to Madurai from the state capital, welcomes the move. He says, "We would save from two rupees to five rupees on ever bottle as vendors charge us more at bus stations. Also it's pure and not fake".
A domestic maid Suganthi, in Chennai, however, says "Let the government first ensure people like us get right and adequate wages. We ourselves can then buy whatever we need".
The new scheme comes after the success of the state government's budget canteens, launched across the state earlier this year. They were started with 1 Rupee idlis, and now canteens have a menu that includes pongal, curd rice and variety rice as well. Chapattis too would be added to the menu soon, say officials.