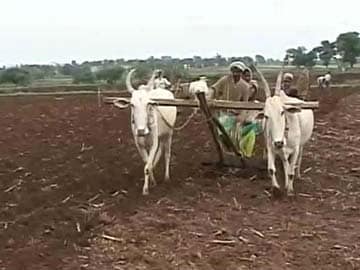 Hyderabad:
Finding it tough to implement his promise on loan waiver to farmers, Andhra Pradesh Chief Minister N Chandrababu Naidu tonight warned that the banks would go bankrupt if they did not accept his government's offer to clear all outstanding farm loans in installments over five years.
"Farmers today are not in a position to repay their loans. The state government, too, doesn't have the money. If farmers don't repay, the loans become non-performing assets and the banks will go bankrupt. I don't like that," he told a press conference at his residence in Hyderabad on Wednesday night.
The Chief Minister maintained that he was not asking for "loan waiver" but only seeking to make the distressed farmers "debt-free".
"We told the banks clearly that it will be a win-win situation (for the banks and the government) to help the farmers. Otherwise, the banks will go bankrupt. That will be a loss to the nation," he said.
The TDP government had come out with a novel policy "acceptable to all" to tide over the situation, he said.
"Our cabinet met here today and decided to form a Farmers' Empowerment Corporation. Through this Corporation, to be formally launched on October 22, we will pay 20 per cent of all the outstanding crop loans to the banks this year.
"The balance will be paid to banks over the next four years at 20 per cent each year. Farmers will be issued subsidy certificates on which they will get 10 per cent interest," the Chief Minister said.
He recalled that his government requested RBI Governor Raghuram Rajan to allow it to repay the farmer loans in installments, "but he rejected" the plea. A similar plea to the Central Government also went unheeded.
Mr Naidu pointed out that in the past, several crores of rupees were given as incentives to revive sick industries as their loans became NPA.
"Some of the sick industries have re-opened after that. Similarly, we are starting the Farmers Empowerment Corporation (FEC) to revive the ailing agriculture sector. The RBI should cooperate with us," he stressed.
The state government constituted an expert committee to work out modalities for providing "debt-relief" and undertook an elaborate exercise on the issue, he said.
"The FEC idea germinated from this. I am proud of it because it is the first-of-its-kind in the country. It will not only make farmers debt-free but also make agriculture in the state profitable by empowering farmers."