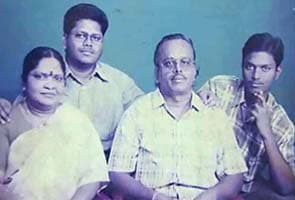 Pune:
Investigations into the suicide of four members of a family in Pune have revealed that the dowry law was cited to threaten the family. A case of accidental death has been registered by the police, but the woman who was allegedly threatening the family members and abetted their suicide has not been booked yet.
Decomposed bodies of A T Narayan (66), his wife Indira (59), their married son Vishnuvardhan (35) and unmarried son Madhusudan (28) were recovered from their residence at Aditya Shagun society in Bavdhan. Vishnuvardhan's wife Sangeeta is alleged to have abetted their suicide, as she wanted to move out from the joint family set-up.
The police said that A T Narayan and his wife, hailing from Madurai, were retired from service and had come to the city recently. Madhusudan was doing an MBA. Vishnuvardhan was working as a program analyst in a reputed software company, while Sangeeta was an MBA graduate, but unemployed. They got married four years ago.
Since the marriage, Sangeeta had been threatening her husband with imprisonment citing dowry laws. She had also warned the Narayans that she would herself commit suicide and then left for Madurai.
"We have recovered a suicide note from the Narayan residence in which the deceased have mentioned that Sangeeta was harassing them, saying she would kill herself," said Police
Inspector Ganpat Madgulkar from the Hinjewadi police station. "We have now contacted the Narayans' relatives and only when they come can we get more information about their strained relationship with the daughter-in-law. We will also interrogate Sangeeta as allegations have been made against her in the suicide note."
Madgulkar said the exact cause of death was not confirmed even after the post-mortem.
"Although it is a case of poisoning, doctors are reticent on the cause as they are yet to
determine what type of poison was consumed," he said.
Reacting to the incident, Advocate Supriya Kothari of Baghini Helpline said: "In 30 per cent of domestic violence cases, it is used as a tool purely to harass the family members. I have come across many cases in which I have seen women using it as a tool to harass their in-laws to take revenge against their partners for various reasons.
However, educated people are aware that the Supreme Court has issued guidelines to law enforcement agencies to verify the truth before lodging a complaint under 498(A) to stop its misuse. There is enough awareness about this act. But this does not necessarily mean that all women misuse it."
"In this case, I honestly feel that there must be another reason or other pressures to which the family was subjected to and that would have compelled them to take such a drastic step. It is really an unfortunate incident."