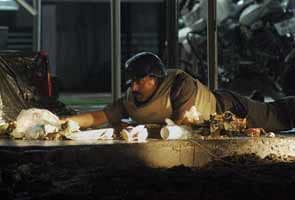 Pune:
Dayanand Patil, a local Pune tailor, is the only person injured in the Pune blasts last evening; he was questioned in hospital and Home Secretary RK Singh said he was being looked at as a suspect as he had been found carrying a bag.
Today, the police said Mr Patil was no more being considered a suspect. However, he is still being detained pending investigations and now his wife is also being questioned by investigating agencies on Mr Patil's schedule and routine.
Mr Patil has reportedly told the cops that he was on his way home when he stopped at the site where activists of Anna Hazare's anti-corruption campaign were holding a fast. This is near the Balgandharva auditorium, the site of the first blast last evening.
Mr Patil has reportedly said that he put a bag that he was carrying his tiffin box in on the ground when he stopped. When he picked it up again, he felt it was heavier than before, and so carried it to a bicycle parked close by, put the bag on it and opened it to see what it contained.
The explosion occurred at that moment. He was rushed to Sassoon hospital with minor injuries to the stomach.
Police sources say investigators also believe Mr Patil could provide clues on who planted the bombs.
Four blasts shook Pune within 40 minutes on Wednesday evening. The Balgandharva auditorium blast was the first. There were three more in quick succession on the same busy Junglee Maharaj Road - outside a Dena Bank branch, near a McDonald's outlet and one near a statue.
Home Secretary RK Singh has said this morning that three of the Improvised Explosive Devices were attached to detonators. He said, "The fact that it (blasts) took place within 45 minutes in a radius of less than a kilometre shows there was planning."