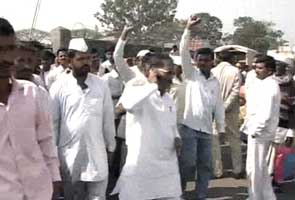 Pune:
Farmers in Pune's main vegetable wholesale market have stopped trading of onions in protest against the government failure to lift ban on exports.
Prices of onion has gone down following huge supply of fresh stocks in the market.
It has brought down rates to as low as Rs 60 for 10 kilos while the farmers are demanding a minimum rate of Rs 150 for 10 kilos.
While consumers are heaving a sigh of relief from the falling onion prices, farmers say they are suffering huge losses.
On Friday, farmers had closed all gates of the market to register their protest and had asked the government to take a decision on lifting export ban within 48 hours, failing which they would intensify the agitation.
Union Agriculture Minister Sharad Pawar and Maharashtra Chief Minister Prithviraj Chavan had assured that the ban on export of onions would be lifted soon.