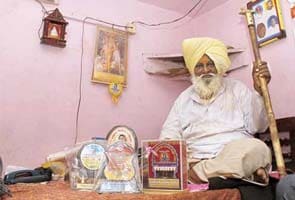 Pune:
"I am not repentant of killing more than 10 people in the past as I killed them because they were exploiting the poor and the common people were victimised by their atrocities," says Bapu Biru Vategaonkar, known for his Robin Hood image among the locals. He was once upon a time a dacoit in Sangli district and is guilty of sending over 10 people to their graves. The 81-year-old went underground for 23 years, was finally arrested in 1983, served time in various jails for his crimes and was released in 2004.
Vategaonkar has now transformed into a saintly individual and conducts religious discourse, preaches to people on how to stay away from vices like alcohol and also encourages them not to tolerate injustice. Vategaonkar, who is a resident of a small village called Borgaon in Valwa taluka around 35 km from Sangli, has been living a life of a hermit after serving time in various jails of the state.
Trigger event
"A girl from a lower caste was murdered by some men belonging to a higher caste in our village in 1967. Her family came to me for help and I told them to go to the police. The police turned a blind eye and did not take any action against the culprits," said Vategaonkar, while speaking on how he donned his Robin Hood role.
He added that he could not bear to see the injustice facing the family and decided to kill the person behind the crime. A few days later Vategaonkar took some friends along, killed the man and went underground.
Recalling the past, Vategaonkar said, "I formed a gang of approximately 35 people and started wiping out anti-social elements in our village and also started giving protection to the poor and needy. As we were not harming poor and innocent people, they started supporting me and often used to safeguard me from the police and other gangs."
Model prisoner
Vategaonkar said in 1983, the police managed to catch him and he was jailed. "Several cases were registered against me and some gang members and we were convicted and sentenced to life imprisonment. Most of my jail term was in Yerawada, during which I proved to be a good inmate. On account of my good behaviour, I was released in 2004 and returned to my village and started creating social awareness among the youth about the ill effects of alcohol and tobacco," Vategaonkar said.
He now lives with his family and delivers religious discourses at the village temple every day. "I owe a lot to the village, as when I was in exile for 23 years running from police, these villagers supported me to a great extent and now it is time to give all this back," said Vategaonkar. Vikas Shinde, a resident of the village said that Bapu has brought a big change among the people by sensitising and creative awareness for education. The people still go to him to seek solutions to their issues and Bapu never disappoints them.
Shooting to fame
Individuals have created accounts on social networking sites in Vategaonkar's name and termed him a social worker and revolutionary who fought against moneylenders and landlords who were torturing innocent people. A Marathi movie called 'Bapu Biru Vategaonkar' was made in 2007, in which well-known actor Milind Gunaji played the role of Bapu.