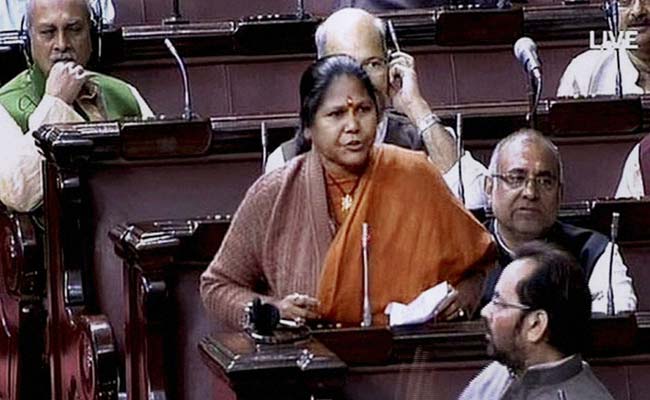 New Delhi:
Sadhvi Niranjan Jyoti's name had little recall till this morning when she hit the headlines for a hate speech she made at a rally in Delhi on Monday.
Apart from her induction as a new minster at the Centre in the cabinet expansion last month, Ms Jyoti was last in the news in June this year, days after she was elected as a first-time MP to the Lok Sabha from Fatehpur in Uttar Pradesh.
She had alleged then that she was attacked at a function by Samajwadi Party workers. They had attempted to kill her, she had told the police.
The saffron-clad 47-year-old sadhvi or monk is a "katha vachak" or one who delivers religious sermons through storytelling; her parliament bio-data, a short read, lists her as a "social worker."
Ms Jyoti has not had much experience as an elected representative, though she has served in various positions in the state BJP and also in the Vishwa Hindu Parishad, a hardline affiliate of the Rashtriya Swayamsevak Sangh, the BJP's ideological mentor.
She won her first election in 2012 to the UP assembly; she had failed in earlier attempts in state elections. Her candidacy for the Lok Sabha this year was seen as having helped the BJP make inroads among the Dalit and backward classes in Uttar Pradesh, a crucial state that the party swept in the nationals elections and is now aiming to win in assembly elections due in 2017.
Ms Jyoti belongs to a community of boatmen who are seen as a major votebank in the state.
In the November cabinet expansion she was sworn in as Minister of State for Food Processing Industries. She was the only woman among the 21 members inducted into the council of ministers in the expansion.
Her education qualifications are listed as "intermediate" on her parliament profile.