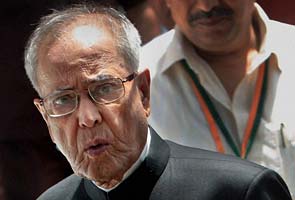 New Delhi:
He first became an MP 43 years ago, a minister 39 years ago. His first stint as Finance Minister of India began exactly 30 years ago. He has been a minister under every Congress Prime Minister in the last 40 years. He is acknowledged across political parties as one of the best Parliamentarians -- several generations of MPs have not seen Parliament without him in it.
Being a Congressman is in his blood. His father was a Congressman and he himself has been that party's troubleshooter for years, privy to every nitty gritty, planning every move. And yet he has seen his days of rebellion -- a brief spell some 28 years ago, when he was out in the cold and even formed his own party.
No, Pranab Mukherjee is not 100 years old. He is a spritely 76 who has packed in a lot in his life and, if the Congress can find a few good men to replace him in his many critical roles, he could soon have a brand new profile - President of India.
For many years now, he has been the Congress' Mr Dependable, the solutions man. As the party's crisis man he parachutes in when matters have escalated. Many consider him as the sharpest mind in Prime Minister Manmohan Singh's cabinet with deep understanding of Indian politics, economic policies as well as strategic issues. He is also the consummate politician - he's played that game on the ground. And every now and then there have been those whispers, loud in the last few days - Pranab Mukherjee has the potential to live up to his initials. PM.
If he is core to the Congress' process of decision-making, Mr Mukherjee is also invaluable to the party as a man who gets along well and is effective while negotiating with, both UPA coalition partners and Opposition leaders on crucial Parliamentary affairs. After a full day's government work at his North Block office, his political meetings famously begin at his home after 10 in the night, often stretching to 1 am.
Pranab-da, as he is universally known was born to Kamada Kinkar Mukherjee, a freedom fighter, and Rajlakshmi on December 11, 1935, in Mirati village near Kirnahar town of West Bengal's Birbhum district.
After studying politics, history and law in Calcutta University, he worked as a teacher, a journalist and a lawyer before joining politics in 1969; he first began in Rajya Sabha, and has since held many important portfolios including only the topmost ones like foreign, home and defence in the last 30 years.
There was that moment of eclipse. After former Prime Minister Indira Gandhi's assassination in 1984, Mr Mukherjee quit the Congress following a power struggle in the party. Mrs Gandhi's son Rajiv Gandhi, hoisted to the top of the party and government, did not accommodate Mr Mukherjee in his Cabinet. Pranab
da
left in a huff and floated his own party -- the Rashtriya Samajwadi Congress. He was brought back by former Prime Minister P.V. Narasimha Rao who made him the deputy chairman of Planning Commission.
Apart from his long stint in Parliament, he has been on the board of governors at the International Monetary Fund, the World Bank and the Asian Development Bank, and was rated one of the best finance ministers in the world by Euromoney magazine in 1984. He is famous for not withdrawing the last installment of a 1.1 billion dollar IMF loan.
Apart from the average 18 hours of work that Mr Mukherjee is known to put in, he likes to read, garden and listens to music - especially Rabindra Sangeet. His favourite food is fish curry with rice. He is married to Suvra and has two sons - Abhijit and Indrajit -- and a daughter - Sharmistha, who is a Kathak dancer. Abhijit Mukherjee is a Congress MLA in West Bengal.