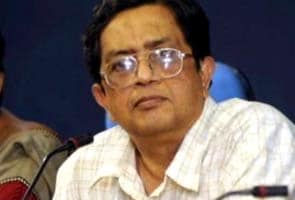 New Delhi:
Polayil Joseph Thomas, 60, has been in the eye of an unseemly storm for the last five months - a corruption case from years ago and an embarrassing question mark on his integrity came back to haunt him and the government that appointed him as the top man to look into corruption.
Ever since he was appointed Central Vigilance Commissioner (CVC), Mr Thomas has been the subject of an intense battle of words between the government and the opposition. His appointment, challenged in court, was finally invalidated by the Supreme Court today.
As Food Secretary in Kerala in the early 1990s, Mr Thomas had campaigned aggressively for the import of edible oil - palmolein - from Malaysia. It later emerged that the price paid for the palmolein was unjustifiably high. He was charged with corruption and conspiracy.
Mr Thomas has repeatedly told the court that the fact that he was promoted over the last few years proves that the charges against him are incorrect and should not affect his career.
Thomas, a 1973-batch IAS officer of the Kerala cadre, held several important assignments in the state. He was appointed Kerala's Chief Secretary in 2007 and before that had been Secretary in several important ministries.
Curiously, his bio-data on the Central Vigilance Commission website lists all his assignments but not that as Food and Civil Supplies Secretary. The UPA government has said the bio-date that it saw while appointing Thomas did not mention this stint or the palmolein case that happened then.
The profile on the CVC website mentions Thomas' other assignments - that as Additional Chief Secretary (Higher Education), Chief Electoral Officer & Principal Secretary to Government, Director of Fisheries, Managing Director of the Kerala State Cashew Development Corporation Limited, Secretary, Taxes (Board of Revenue). Even District Collector, Ernakulam, Secretary, Kerala Khadi & Village Industries Board and Sub Collector, Fort, Cochin. One assignment listed merely states - Secretary, Government of Kerala.
In 2009, Thomas moved to the Centre as Secretary in the Parliamentary Affairs Ministry in 2009. He also served as Telecom Secretary till he became CVC, and those who speak for him point to how much better the 3G spectrum auction was organised as compared to 2G.
The Supreme Court, which is also monitoring the CBI's investigation into the spectrum scam, suggested that it would be inappropriate for Mr Thomas to preside over an inquiry that could subject his own actions in the Telecom Ministry to scrutiny. Mr Thomas then recused himself from the 2G investigation.
Thomas was appointed CVC in September 2010.
He has an M. Sc. in Physics and M.A. degree in Economics.