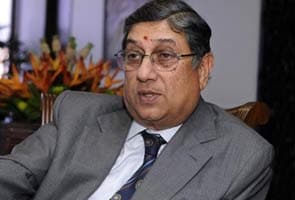 Narayanaswami Srinivasan, a 67-year-old industrialist from Chennai, heads the world's richest cricket body, the Board of Control for Cricket in India (BCCI). BCCI Secretary till September 2011 and before that a BCCI Treasurer, he became the body's 30th President in September 2011 after Shashank Manohar's term ended. Mr Srinivasan's term as President extends till 2014.
He owns the India Cements Ltd (ICL), a major corporate entity in the south, with a turnover of around Rs 3,500 crores. His company - founded by his father in 1946 - sponsors several local clubs in Chennai and Hyderabad.
In 2008, during the first auction for IPL teams in India, Mr Srinivasan's company bought the Chennai franchise for 91 million dollars or Rs 480 crore.
The Chennai Super Kings is captained by national team captain MS Dhoni, who was bought for 1.5 million dollars or Rs 8 crore and coached by Stephen Fleming. Critics have said there's a conflict of interest in the head of the BCCI owning an IPL team. But Mr Srinivasan has always maintained that it is India Cements that holds the ownership rights to the franchise and not him - and that he is just a stakeholder. Mr Srinivasan's son-in-law Gurunath - from the AVM family of film producers - is the franchise owner of the CSK.
It is the most successful team in the IPL league so far. The team has won the IPL title twice in succession (2010 and 2011) and reached the knock-out stages every season. His team was rated as the 'most valuable team' in the Indian Premier League in 2010-2011, with an estimated brand value of 48.4 million dollars or Rs 224 crores, making it the most valuable franchise.
He's married to Chitra Srinivasan, a director at ICL and father to Rupa - an ICL director herself - and son Ashwin. His estranged brother N Ramachandran is the head of the Tamil Nadu Squash Rackets Association.
Mr Srinivasan did his post-graduation in Chemical Engineering from the Illinois Institute of Technology and played cricket, tennis and hockey during his days at Loyola College, Chennai. As President of the Tamil Nadu Golf Federation, he's an avid golfer himself. He says he once had an enviable single digit handicap in golf. But he now suffers a handicap of 10 - in jest, he blamed this on the BCCI in an interview to NDTV's
Walk the Talk
.
A Tamil Nadu cricket insider describes Mr Srinivasan to a cricket website as "a streetfighter who will do anything to win. Those on his wrong side are neither forgiven nor forgotten, but loyalists are looked after."
Srini, as he's popularly called in his circles, was Tamil Nadu Cricket Association (TNCA) Vice-President in 1998 under AC Muthiah. Later as President of TNCA, he scrapped the fixed tenure of eight years. As President of TNCA since 2002, he'd attend BCCI meetings, but chose, some say deliberately, to maintain a relatively low profile.
Mr Srinivasan is also known as a superstitious man. He is said to have restored a Ganesh temple outside Chepauk stadium in Chennai because he believed it watched over his TNCA.