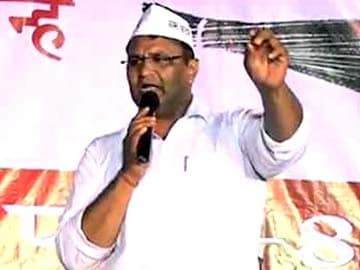 Vinod Kumar Binny was an Aam Aadmi Party hero on the evening of December 8, 2013. One of the fledgling party's giant killers in the Delhi Assembly elections, he had just trounced the Congress' Dr AK Walia, finance minister in the Sheila Dikshit government.
Dr Walia was a formidable opponent, considered invincible in his pocketborough of Laxmi Nagar - he had represented the constituency four times running. Vinod Binny was an ex-Congressman contesting Assembly elections for the first time.
With such a spectacular win, and being one of the few new AAP legislators with some political background, the two-time municipal corporator was seen as a front runner for a ministerial berth if Arvind Kejriwal formed government in Delhi. He had quit the Congress to join Mr Kejriwal's anti-corruption campaign and party when it was formed.
But on December 27, when Mr Kejriwal released a list of six ministers who would take oath with him, Mr Binny's name was not on it. The legislator was spotted leaving Mr Kejriwal's Ghaziabad home in what seemed to be a huff.
The honeymoon appeared to be souring, but matters were soon brought under control with Binny asserting that all was well.
But the 39-year-old revolted again, this time accusing party leaders of "straying" from AAP's core principles. Mr Kejriwal initially dismissed it as the rant of a disgruntled leader, who has been sulking ever since he was denied a ministerial berth.
AAP leaders say Mr Binny's latest rebellion a protest against the party's decision not to field him as a candidate from one of the seven constituencies in Delhi in the Lok Sabha elections due by May.
However, a couple of weeks later, Mr Binny was expelled by AAP for bringing "disrepute" to the party and its leadership.
A trader by profession, Mr Binny was first elected to the Delhi Municipal Corporation as an Independent in 2007. He joined the Congress in 2009, but had become an active participant in the India Against Corruption movement at the peak of the anti-graft campaign launched by Gandhian activist Anna Hazare in 2011. He was re-elected to the MCD in 2012, and joined AAP months later when it was launched.
The Laxmi Nagar MLA claims to have pioneered the "muhalla sabha,'' the grass-roots grievance-redressal experiment now being championed by the Kejriwal government. He was featured in an AAP video on Swaraj (self-governance) where he talked about the muhalla sabhas.