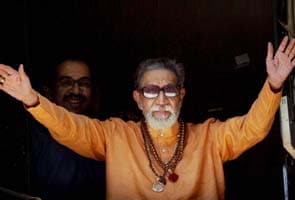 Mumbai:
Controversial. Communal. Demagogue. And the only man who could bring Mumbai to a halt. At the same time: a talented cartoonist, a master orator, a shrewd politician and a hero who fought for the rights of Marathis.
Depending on which side of the divide one is, these are the many perceptions of Shiv Sena President Bal Thackeray, a figure who will go down in Indian history as one of the most divisive and controversial personalities.
Born in 1926 to Keshav Thackeray - popularly known as Prabhodhankar after his magazine Prabhodhan - ironically, Bal Thackeray came from a legacy of tolerance. His father was a social reformer who worked to eradicate the evils of the caste system. In the 1950s, he was one of the leading voices of the Samyukta Maharashtra Movement that was launched to create a state for Maharashtrians on linguistic grounds. But the young Thackeray would take from that movement, not too much of its progressive and forward-thinking aspects, but its violent nature.
Along with RK Laxman, Mr Thackeray started his career in Bombay - as it was then known - as a cartoonist for the prestigious Free Press Journal. The talented Mr Thackeray was acclaimed for his clean strokes, his flair for wit and his keen observation. In 1960, he started his own journal Marmik - meaning poignant - which turned into a launch pad for his entry into the political arena. It was then that the 'insider-outsider' debate sparked off in Mumbai as he began targeting Gujaratis and South Indians, accusing them of snatching jobs he claimed were meant for local Marathi-speaking Maharashtrians. Marmik, in fact, even published names of people from these two communities. Each list would end with a provocative call: read and stay silent.
It was with this objective that in 1966, on Dussehra, Mr Thackeray launched his party, the Shiv Sena at a mammoth rally held at the Shivaji Park in Dadar in central Mumbai. As the rally broke up, the crowds spread out to attack the "outsiders" and the city got its first brush of Sena's politics of violence. Though there was widespread condemnation, the Sena justified it calling this their fight for the sons-of the-soil. In 1970, the Sena launched a campaign against them and Mr Thackeray's workers were accused of murdering Krishna Desai, a stalwart communist leader. The Left also accused the Congress of supporting the Sena so as to end its hold on the city's working class and trade unions.
Mr Thackeray had by now been able to successfully build a massive personality cult. Unlike other khaki-clad leaders, he openly smoked pipes, wore sun-glasses and even drank beer - an image that was in stark contrast to the growing hooliganism of his workers. Even his fiercest critics won't deny that Mr Thackeray was perhaps the most charismatic mass leader Maharashtra has ever seen. A master orator, Mr Thackeray's followers grew in numbers as he would continue to rouse the crowds with his fiery and often vitriolic speeches which would invariably always be punctuated with pot-shots and under-the-belt remarks taking on his political rivals. His supporters loved him and would wait for the Sena's annual Dussehra rally to hear their 'Balasaheb' speak. This mass hysteria gave him a larger-than-life appeal, all without once holding any public office.
In 1984, the new credo of Hindutva got the Shiv Sena and the BJP to join hands in Mumbai and Maharashtra. To propagate his cult-hood, Mr Thackeray too went for a makeover. Dressed in white or saffron robes, with a blazing tika on his forehead, Mr Thackeray would sit on a massive silver throne. Two to three necklaces made of rudraaksh beads would add to the image of his new avatar - that of a Godman.
The most serious allegation Mr Thackeray faced was of being communal and anti-minorities. From South Indians and Gujaratis, the Sena had a new target: Muslims. The fallout of the Ram Janmabhoomi movement had caused tension across the country. Thackeray used his party newspaper and mouth piece, Saamna, in which, just on the eve of the Babri Masjid demolition, he wrote an incendiary editorial, "Towards Ayodhya". He is quoted as saying, "Now, no one can stop the construction of the Ram temple at Ayodhya. An ocean of millions of Ram devotees is surging to Lord Ram's Ayodhya. Our brave Shiv Sainiks are also joining in."
It is still contested if Shiv Sainiks actually took part in the demolition. But Thackeray is believed to have said that if that was true, then he was proud of them. The CBI, however, named him as one of the accused in the Babri demolition and accused him of conspiracy.
The 'anti-Muslim' tag, earned greater currency post the demolition as the terrible communal riots in 1993 tore Mumbai apart - some say forever. Over 1,000 Muslims were killed and once again, the Sena was accused of playing an active role. Perhaps, the strongest evidence to support Mr Thackeray's alleged hatred for Muslims is found in the report compiled by the Justice BN Srikrishna Commission which looked into the riots and indicted Thackeray and Sena leaders.
In a searing comment, Justice Srikrishna said, "There is no doubt that the Shiv Sena and Shiv Sainiks took the lead in organising attacks on Muslims and their properties under the guidance of several leaders of the Shiv Sena from the level of Shakha Pramukh to the Shiv Sena pramukh, Bal Thackeray who, like a veteran General, commanded his loyal Shiv Sainiks to retaliate by organised attacks against Muslims."
Mr Thackeray was tried and acquitted in several cases but only for hate speech and never for conspiracy and the mass killings. His party too denied the accusation claiming had it not been for the Shiv Sena, Mumbai would have burnt even longer. Much later, Mr Thackeray had issued a call to form Hindu suicide squads to counter Islamic fundamentalism and terror in India. But he would also soften his stance stating he was not against all Muslims but only those who acted against the country's interests.
The riots led to a deep polarization and the Sena-BJP alliance swept to power in 1995. Though Maharashtra was officially governed from its Secretariat - Mantralaya - in South Mumbai, Matoshree, the Thackeray residence in Bandra became the new power centre. Respected by a few, but feared by all, politicians, industrialists and actors would be at the 'Tiger's' beck and call, including the King of Pop, Michael Jackson who posed with Thackeray and got clearance for his sole concert in India. It was also an open secret that Congress leader and Bollywood actor Sunil Dutt had to plead before Mr Thackeray, whose government had arrested his son Sanjay, accusing him of being involved in the 1993 Bombay blasts that followed the riots. It was this dominating influence over the city, without officially holding any position that earned Mr Thackeray the nickname 'remote-control.'
Through fear and intimidation, Bal Thackeray ruled Mumbai.
Accused of being dictatorial and a demagogue, Mr Thackeray was quoted by the Asia Week saying, "I am a great admirer of (Adolf) Hitler, and I am not ashamed to say so! I do not say that I agree with all the methods he employed, but he was a wonderful organiser and orator, and I feel that he and I have several things in common... What India really needs is a dictator who will rule benevolently, but with an iron hand."
But the honeymoon was short-lived. In 1999, his government was voted out. Mr Thackeray could not even vote as the Election Commission had banned him from voting and contesting elections for 6 years as he had been found guilty of electoral malpractices. Out of power, the Sena remained confined to only ruling Mumbai's civic body. The diatribe though continued and the party turned into becoming the moral police and cultural arbiter of the state. Mr Thackeray lampooned those who celebrated Valentine's Day, his Sainiks vandalising shops that sold related merchandise. His tirade against Pakistan grew fiercer and took an ugly turn when Shiv Sainiks dug up the cricket pitch at the Ferozshah Kotla Stadium in Delhi.
Yet, Mr Thackeray remained above the law. In 2000, he was arrested for his inflammatory speeches by his former acolyte Chhagan Bhujbal. Mumbai came to a standstill. But the arrest was seen only as tokenism and Thackeray was let off.
The rhetoric of intimidation and violence was finding fewer and fewer takers. In 2004, the alliance faced a humiliating defeat at the hands of the Congress-NCP combine, never tasting power again. Then, two years after the ignominy, the Thackeray family was split right in between, with his charismatic nephew Raj Thackeray exiting the party, angry that Thackeray's son Uddhav was being projected as the heir to his father's throne.
Mr Thackeray faced further embarrassment, as right under his nose, Raj's new outfit - the Maharashtra Navnirman Sena - sharply cut into the Sena's Marathi vote-bank. To counter this loss, the Sena found a new target to 'appease' the Marathi Manoos: the city's North Indian population. To create a fear psychosis, a few taxi and auto rickshaw drivers, vegetable vendors, milkmen - all migrants from Uttar Pradesh and Bihar were attacked, forcing many to leave the city. Again, in a provocative editorial, "Ek Bihari, Sau Bimari" (One Bihar, Hundred problems), he slammed them as an unwanted lot.
The party that had rechristened Bombay as Mumbai also targeted local boy and cricketer Sachin Tendulkar for his statement that "Mumbai belonged to India." Actor Shah Rukh Khan was also not spared when he spoke in favour of Pakistanis playing in the Indian Premier League.
As his party's political fortunes declined - losing even the 2009 state elections - so did Mr Thackeray's health. In his last Dussehra rally speech in 2012, the ailing leader couldn't make it in person and the Sena played out a pre-recorded video message. Frail, his hands shaking, Mr Thackeray knew he was sinking. Unseen ever before, with folded hands Mr Thackeray pleaded to his followers to support his son Uddhav.
If there was any solace in his final days, it was the Sena's splendid victory in 2012 Mumbai civic polls and also in the first glimmerings of a patch up between his son and estranged nephew.
However, it still remains uncertain what they will make of the Thackeray legacy. His admirers see it as asserting the rights of the Marathi manoos. But his critics see as one of great paradox: of a man who injected a culture of intolerance into the veins of India's most tolerant city.