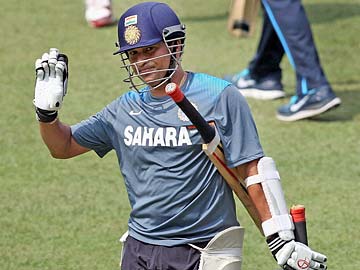 New Delhi:
'The God' has called it quits and cricket won't find another one to fill the vacuum for a long, long time to come.
Sachin Tendulkar, the man who gave nightmares to bowlers, inspired fellow batsmen to be like him and helped umpires forget how tiring it can be to stand on the field all day long, will quit Test cricket after playing his 200th match against the West Indies next month.
At 5'5, Tendulkar was not exactly the most colossal player to stride on to the field but he bows out as a giant, who ruled cricket for 24 years and gave his legion of fans mesmeric and emotionally overwhelming memories.
With a mountain of runs good enough to bury a statistician to death, Tendulkar's retirement creates a vacuum so huge that one can safely say that cricket would never be the same again.
For the record, his 198 Test appearances yielded 15,837 runs at an average of 53.86, a feat so huge in magnitude that no contemporary or even a talented successor of his, looks capable of overhauling it in the near or distant future.
Being a part-time bowler, he has taken 45 wickets at an economy rate of 3.51.
His journey started way back in 1989 when he was just 16 years of age.
A disarming smile, curly locks, resolute eyes and abundant talent, this was the Tendulkar who first stepped on to the minefield that is Test cricket against a ferocious Pakistani bowling attack boasting of that deadly combo of Wasim Akram and Waqar Younis.
Tendulkar gave an early display of his steely resolve when he continued to bat in a blood-soaked shirt despite being hit on his face.
That resolve came to define the little man who had the world's most feared bowlers bowing in admiration of his talent and skill. His wicket, in fact, remains the most cherished for all those who managed to have it against their name.
A batsman who reminded the great Sir Donald Bradman of himself, Tendulkar bows out as international cricket's top run-scorer by quite a distance in ODIs as well.
At the end of his ODI journey, the 40-year-old right-hander had, under his belt, a whopping 18,426 in 463 matches at an average of 44.83.
The Mumbaikar, fondly called 'Little Master' and 'Master Blaster' by his fans all over the world, however, did go through his fair share of tormenting low ebbs in what was largely a glittering career.
But without an iota of doubt, the only batsman to score 100 international centuries -- 51 in Tests and 49 in ODIs --would be remembered as the greatest to have played the game after Bradman.
He failed miserably as a captain and was bogged down by the massive responsibility of anchoring Indian batting during a time when the fall of his wicket was akin to the team folding up. That pressure eased off slightly when the likes of Sourav Ganguly and Rahul Dravid blossomed.
More recently, he was woefully out of form during India's Test and ODI whitewash at the hands of England last year and carried the weight of expectations to what turned out to be a horror tour of Australia.
But then Tendulkar dug in there and ensured that he went out on his own terms.
His impact resonated much beyond the cricket field and he accomplished a rare feat by becoming a Rajya Sabha member last year.
With no cricket to play, he is likely to be a more active participant in the Parliament having already shown the keenness to improve the sporting scene in India.
But nothing beats what he pulled off on the cricket field leaving opposition bowlers flummoxed and fans mesmerised.
With an over two-decade long career, records were fairly routine for Tendulkar but for the cricketing fraternity every run he scored just added to the legend that the diminutive right-hander became.
Much before his debut on November 15, 1989, Tendulkar's precocious talent was there to be seen when he shared an unbeaten 664-run stand with buddy Vinod Kambli in the Lord Harris Shield Inter-School Game in 1988.
His first Test century came in England in 1990 at Old Trafford and the Mumbaikar rose in stature after the 1991-92 tour of Australia, hitting sublime hundreds on a Sydney turner and a Perth minefield.
The rest is history. No existing batting record seemed safe. Other than Brian Lara's Test match highest of 400 not out and first class highest score of 501 not out, every record became Tendulkars.
Tendulkar was also the first batsman in the world to score a double ton in ODIs, a feat he achieved in Gwalior against South Africa in February 2010. This was included in Times magazine's top 10 sports moments of the year.
A perfect team-man, Tendulkar limited his Twenty20 ambition to the Indian Premier League, ruling himself out of national reckoning lest it upsets the existing equilibrium of the side.
The biggest compliment to his batting came from Bradman himself in 1999 when he said that Tendulkar's style of playing resembled his style.
"That touch I used to feel when I batted," he had said.
Tendulkar's colossal batting exploits have completely overshadowed his utility as a part-time bowler who revelled in breakthroughs.
He was a complete enigma with the ball, sending down military medium pace, orthodox leg-break and off-spin with the guiles that often caught batsmen off their guard.
His 154 scalps in ODIs underline the fact that Tendulkar could have also staked claim to be that elusive all-rounder that India has been desperately looking for since the legendary Kapil Dev.
But shoulder problems have not allowed him to bowl as much as he and the team would have liked.
In the field, he is among the safest pair of hands in the slip and his flat throw releasing strong arm saw him manning the deep with equal aplomb. He has taken 114 catches in Test cricket and 140 in the ODIs.
The aura only grew in strength because of his impeccable demeanour, on and off the field.