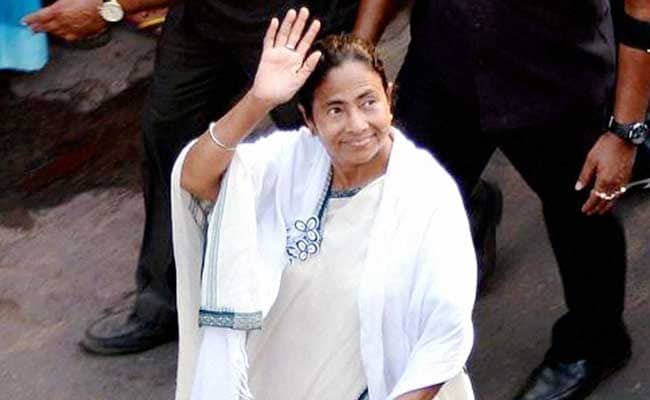 As a fiery Congress leader, she caught everyone's attention with her unwavering opposition - and critics add, "antics" - against the Left Front government. But even after sweeping the 35-year-old Left bastion in Bengal as the head of her own Trinamool Congress, Mamata Banerjee hit the headlines more for controversies than for any '
Poriborton
' or change.
Ms Banerjee has been known to ascribe political motives to rapes, corruption scandals and even cartoons lampooning her; she accused her predecessor, the Left, for the flyover collapse that left 25 dead in Kolkata. Lately, her government has been battling attacks over a sting by a news portal, Narada, which showed top leaders of the Trinamool allegedly accepting bundles of cash purportedly as bribes for favours.
Taunted by Prime Minister Narendra Modi over alleged corruption from "Saradha to Narada", Mamata Banerjee shot back that she would "tie a rope round the PM's waist and put him in jail".
Mamata Banerjee was seen as the chief obstacle to reforms when she arm-twisted the then UPA government she partnered till September 2012. When the muscle-flexing stopped working, she walked out.
Ms Banerjee is dismissive of criticism; she has scored her own government a perfect 100 and insists that the media appears to paint a negative picture of her performance.
Her aggressive ways had critics shouting "Didigiri". But for all that, Banerjee has her political acumen intact. In the 2014 national election, she toed a fine line - refusing to join the BJP to keep her Muslim vote intact.
A history graduate from Jogmaya Devi College, Ms Banerjee secured a Master's in Islamic History from the University of Calcutta followed by a degree in education from Shri Shikshayatan College. She earned her stripes as a lawyer with a degree from Jogesh Chandra Chaudhuri Law College. Ms Banerjee draws and likes to write poetry. Her passion for doodling led to the birth of the party's symbol.
She is the published author of '
Poribortan
' (Change), '
Kobita
' (Poems) and 'My Unforgettable Memories'.
She lives a simple life, with a few obvious vanities - she has forever been seen clad in an inexpensive cotton sari and rubber slippers. But hell hath no fury as Didi scorned.
From the unknown worker pasting anti-CPM posters to General Secretary of the Congress' youth wing, Ms Banerjee had a meteoric rise in the Congress. She first contested elections in 1984.
In 1997, she parted ways with the Congress to float her Trinamool Congress. Here, Didi is all-powerful. It still took an arduous 14 years to get where she wanted - the CM's office in Kolkata's Writers' Building. On the way there, she partnered both BJP and Congress led governments at the Centre, treating both to her famed temper tantrums, threats to walk out and even breaking political partnerships with much 'elan'.