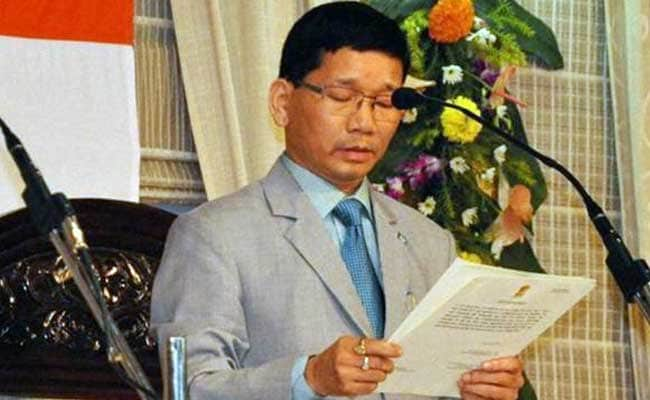 New Delhi:
Within an hour of the news of former Arunachal Pradesh Chief Minister Kalikho Pul's death, Itanagar, Arunachal Pradesh's capital, saw spontaneous protests.
Agitated supporters set afire a coffin that was being taken to the bungalow where Pul was found hanging. They also vandalised the official residence of the State's Home Minister and demanded an inquiry.
All this, argued political commentators, proved that Pul was popular.
"Pul belonged a small tribe called Kaman Mishmi who are mostly from Anjan, bordering China. The fact that we saw such outpouring in Itanagar reflects his popularity," said Jarpum Gamlin, founding Editor of The Eastern Sentinel.
In a condolence message to his wife, Arunachal Chief Minister Pema Khandu described Pul as "one of the tallest leaders and the longest serving Finance Minister."
His tenure as Arunachal Pradesh Chief Minister may be the shortest at four months but it was certainly the high point in the 47-year-old's remarkable rise from his modest beginnings.
From being a trained carpenter to working as a part-time guard, Pul had seen very hard times but was determined to complete his graduation in Economics and Law. He plunged into politics in 1995 when he got elected as a lawmaker for the first time. Since then, he never looked back as he never lost an election.
Dissidence, one of the most ensuring features in Arunachal politics, but Pul continued to be a minister in every Chief Minister's team. Be it Gegong Apang, Mukut Mithi, Dorjee Khandu or even Mukut Mithi, Pul was always part of the cabinet.
Last December, Pul, who was the Finance Minister in Nabam Tuki-led Congress government, rebelled against the Chief Minister. After the imposition of President Rule in the state, in February, Pul became the Chief Minister with the help of 20 Congress rebel and BJP lawmakers.
Even after the top court turned the clock back, Pul was defiant, claiming he had the numbers to prove his majority.
"We will prove our majority. I know the next two days will be dramatic," said Pul at a press conference a day after the Supreme Court verdict. His words turned prophetic.