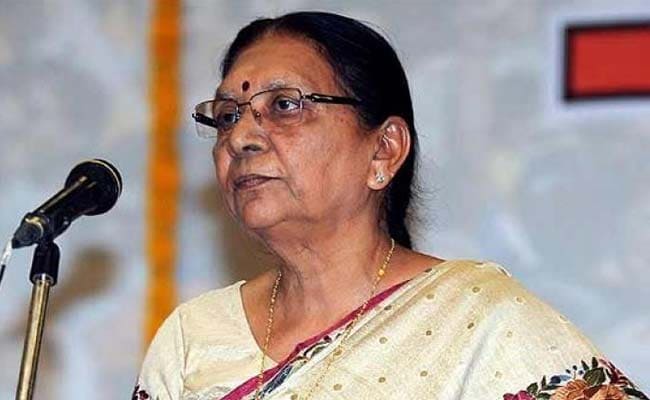 Ahmedabad:
Gujarat's first woman chief minister Anandiben Patel faced during her brief tenure several challenges, including the Patel quota stir and the recent flogging of Dalits in Una, which are perceived to have dented the BJP's support base ahead of next year's state Assembly polls.
A teacher-turned-politician and recipient of the President's bravery award, 74-year-old Anandiben Patel, who resigned today as the Gujarat chief minister, also proved herself a socially concerned administrator capable of taking firm decisions by her interventions for improving school education and sanitation programmes.
Ms Patel, who succeeded Narendra Modi as chief minister in May 2014, is a disciplinarian, hard taskmaster and one who speaks her mind out.
A staunch Narendra Modi loyalist, she emerged as the natural heir when the former became the prime minister after successfully running the state for nearly a decade.
Under Narendra Modi, she had headed the group of ministers tasked with running the state's day-to-day affairs during his hectic Lok Sabha campaign.
Ms Patel, who will turn 75 in November this year, was born on 22 November 1941 in Kharod village of Vijapur taluka of Mehsana district in a farmer's family.
During her tenure as chief minister, she laid special emphasis on social welfare programmes like malnutrition of children, women's health and building toilets to achieve the targets under PM Modi's flagship Swacch Bharat Abhiyan, earning the reputation of a kind hearted person.
The BJP under her leadership also suffered loss in the Gandhinagar Municipal Corporation (GMC) election in April this year, where it won 16 of the 32 seats in a tie with Congress.
Recently, she broke down after listening to a poem penned by a school girl on female foeticide during a function.
However, she also demonstrated that she is not a leader to bow down easily when it comes to taking decisions.
On many occasions, she poured her heart out and many a time took officials to task for their failure to serve the people.
Many within and outside her party consider her to be very adamant, a trait she reflected during the Patel quota stir.
Instead of giving in to the demands of the agitators or offering promises, she remained firm and refused to grant the community the OBC status for reservation.
Instead of giving "politically correct" answers, she bluntly told the agitators in the beginning that reservation under OBC category for Patels is not possible.
A post graduate in science and education, she opted for a career in teaching and moved to Ahmedabad from Mehsana.
Between 1967 and 1997, she worked as teacher and then as the principal at Mohinaba Kanya Vidhyalaya, Ahmedabad.
Subsequently, she left the job to join politics full time.
Ms Patel's foray into active politics was caused by an accident while as a teacher when she jumped into a reservoir to save two drowning girls during a school picnic, for which she received the President's bravery award.
Impressed by Ms Patel's heroic act, BJP top brass suggested that she join the party, an invitation which she accepted and went on to become the Gujarat Pradesh Mahila Morcha President.
Her participation in BJP's 'Ekta Yatra' from Kanyakumari to Srinagar in 1992 was a turning point in her political life, as it gave an opportunity to walk with top leaders like Murli Manohar Joshi and Narendra Modi.
Later in 1994, the party sent Ms Patel to the Rajya Sabha.
She contested and won her first Assembly election from Mandal in Ahmedabad district in 1998 after resigning from Rajya Sabha and was inducted in the cabinet of Keshubhai Patel as Education Minister.
She fought her second and third assembly elections under the leadership of Narendra Modi in 2002 and 2007 from Patan constituency, which she won comfortably.
She retained the education portfolio between 2002 to 2007, while in the third term she was assigned Revenue as well as Road and Building.
In 2012, Ms Patel contested and won from Ghatlodiya constituency of the city. Between 2007 and 2014, she was the Cabinet minister of Road and Building, Revenue, Urban development and Urban Housing, Disaster Management and Capital Projects under the Narendra Modi-led Gujarat government.
On 22 May 2014, Patel was sworn in as chief minister to succeed Narendra Modi when he became the Prime Minister after leading the BJP to a resounding victory in the general polls.
In his speech while handing over the charge of the state to Ms Patel, PM Modi praised her services and noted that she was the only minister who had served for 16 years at a stretch.
"She will be the first chief minister who has a gold medal in Masters of Science and has also received a President Medal. This is for the first time that Gujarat will get a woman chief minister and I am sure that development under her will be good," said PM Modi in his speech.
As the helmswoman of the state, she herself handled some of the vital portfolios, such as Revenue, Industries and Ports, Narmada and Kalpsar, Urban Development, Information and Broadcasting, Home, Climate Change and General Administration Department.