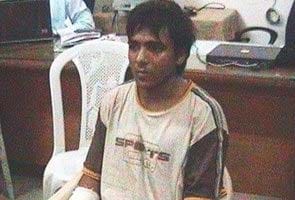 New Delhi:
Mohammed Ajmal Amir Kasab, who was executed on Wednesday, was a school drop-out from a small village in Pakistan who earned infamy as the sole surviving gunman from the 26/11 Mumbai attacks of 2008.
Ten heavily-armed militants ran rampage through the city in November almost four years to the day, killing 166 people over nearly three days in a prolonged assault that was covered live on television around the world.
Kasab was one of two gunmen who opened fire and threw hand grenades at Mumbai's main railway station, the Chhatrapati Shivaji Terminus on November 26, killing 52 people and wounding more than 100.
He was born in the dusty village of Faridkot in a remote and impoverished region of Punjab in Pakistan's farming belt, home to 10,000 people, most of them farmers and labourers and few of them literate.
His father, Mohammed Amir Iman, ran a food stall in the village.
Kasab dropped out of school in 2000 and worked as a labourer in the eastern city of Lahore until 2005, according to his initial confession to the police. He first pleaded not guilty but later made a confession, admitting being one of the 10 gunmen trained, equipped and financed by the banned Pakistan-based Lashkar-e-Taiba (LeT).
Kasab reportedly said he joined the Islamist group to get weapons training after deciding to embark on a life of crime but there have also been claims that his father duped him into doing it for money.
The Supreme Court upheld his death sentence this year and he was executed, aged 25, on Wednesday after his final appeal to the president to save him from death was rejected earlier this month.
Wilson John, senior fellow at New Delhi's Observer Research Foundation and a specialist in extremist groups, told AFP that Kasab fitted "the profile if you look at the terrorists recruited by Lashkar-e-Taiba".
"They come from lower-middle class or poor families," he said. "They're not entirely uneducated, just a little bit educated, they're unemployed and looking for a job. They're not religiously inclined but they can be brainwashed.
"He was a prime target."
When his trial began in 2009, Kasab at first appeared relaxed, dressed in either a T-shirt and tracksuit bottoms or a traditional kurta-pyjama, joking or smiling at lawyers and reporters.
But he seemed increasingly sullen, withdrawn and even asleep as the trial progressed, prompting fears for his mental state. He showed no emotion in the dock when he was pronounced guilty of murder and waging war on India.
After his conviction, he was held in the high-security Arthur Jail in Mumbai in a special bullet proof jail. When his Supreme Court appeal began in January, he issued a statement saying he had been denied a fair trial.
Prosecutor Ujjwal Nikam characterised Kasab as a shrewd and calculating operative, describing him as a "human shape" with no feelings or emotion.
While pushing for the death penalty, Nikam dwelt on the apparent smile Kasab wore while firing on travellers in the train station and his reported regret at arriving late at the target because he had missed the commuter rush.
His defence lawyer, KP Pawar, sought to persuade the court that Kasab was a susceptible young man who had been brainwashed. "He was mentally defective (at the time of the attacks) and the effect impaired his ability to appreciate the impact of his conduct," Pawar told the court during discussions about his sentence. "He's a human being of flesh and blood, that should not be forgotten," he added.
As Kasab's trial continued in India, the cost of keeping him alive had been a huge burden on the state exchequer. While the Government spent over Rs 5 crores on his high security cell at Mumbai's Arthur Road jail, his security, entrusted to the Indo Tibetan Border Police (ITBP), cost the state several hundred crores.