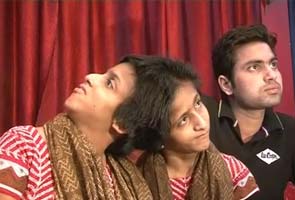 New Delhi:
The Supreme Court said today it is concerned about the health of two Patna sisters born conjoined but cannot order surgery to separate them as their parents are unwilling.
The court ordered the Bihar government to pay the twins, Sabah and Farah, Rs 5000 a month and take care of their medical expenses.
The judge said a top surgeon from any government hospital in Patna should be appointed to examine the sisters regularly and submit a report to the court.
"We are very happy and excited and thank the Supreme Court for ruling out surgery. The court's verdict will provide us time to live together, like we have since birth," Saba told IANS at her home in Patna.
Her sister Farah said: "We are grateful from the core of our heart. We are also thankful to Allah for it."
A law student, Aarushi Dasmana, had appealed to the court to help save the 17-year-old girls.
The court said the parents wanted financial help and had not allowed doctors from the All India Institute of Medical Sciences to examine the twins.