Only two people know the reasoning behind decisions taken by the Bharatiya Janata Party: Narendra Modi and Amit Shah. So the rest of us can only speculate as to why Information and Broadcasting Minister Venkaiah Naidu - who also runs the urban development ministry - has been chosen as the National Democratic Alliance's vice-presidential candidate. Naidu may have wanted the job, but that's not usually an asset in Modi's eyes, or Shah's. So what else could have set him apart from the pack?
It's not as if Naidu is in any way disqualified for the post, or even unqualified. But it isn't certain what sets him apart, either. The NDA's three previous candidates for the job of vice president have been giants in their own ways. Bhairon Singh Shekhawat, who won his election in 2002, was one of the grand old men of the BJP, and the pre-eminent Rajput leader of his - or perhaps any - generation. He was almost continuously in parliament since India's first-ever free election in 1952, was dominant in his state, and was an innovative and inclusive administrator, introducing many of Rajasthan's path-breaking anti-poverty programmes that subsequently spread nationwide. Najma Heptullah, the NDA's vice-presidential candidate in 2007, was eminently qualified to lead the Upper House- the vice president's primary responsibility - since she had become deputy chairperson of the Rajya Sabha more than two decades before she was chosen to run. And Jaswant Singh, who lost to Ansari in 2012, was surely as fit then to be president as to be vice president. Naidu, though certainly one of the current BJP's more articulate and sensible leaders, hardly matches any of these previous contenders in stature or qualifications.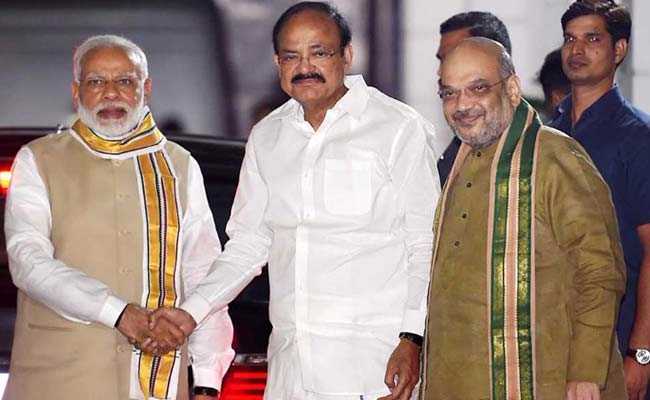 So what could Modi and Shah be thinking? Are they simply looking for a safe pair of hands when it comes to managing the troublesome Upper House, in which the BJP still looks some time from achieving a majority? Perhaps. But then they could hardly be said to have been completely satisfied with Naidu's handling of the parliamentary affairs portfolio, which they took away from him in a cabinet reshuffle almost exactly a year ago. And while the urbane Naidu is not unpopular with his colleagues in parliament, he isn't exactly the average oppositon MP's favourite member of the ruling party either - he has been entirely too sharp, aggressive and on-point a debater for that.
It would be easy perhaps to assume that it is precisely that aspect of Naidu's recent career which is being rewarded: he has been among the sharpest and most pointed of the BJP's parliamentarians. Perhaps this is just little more than a reward for loyalty? Naidu, after all, has gone above and beyond the call of duty, showing a dedication to his Prime Minister and a love of acronyms that marks him out even by the standards of the Modi Sarkar. This is the man, after all, who declared that that the Prime Minister was "God's gift to India", and expressed that respect in the manner that his leader would most appreciate, by insisting that "Modi" stood for "Modifier of Developing India". One feels bad for that long-ago presidential candidate from the Congress who declared that he would sweep a room if Indira Gandhi handed him a broom. Poor Giani Zail Singh clearly suffered from a lack of imagination.
But one thing is clear about Narendra Modi's management style: devotion is a necessary but not sufficient condition for advancement. The Prime Minister expects loyalty, but feels no obligation to reward it. There's something else at work here.
And it is, I suspect - as do many others - that oldest of Indian political traditions: identity. Naidu is the BJP's most prominent South Indian face (if the corruption-hit B S Yeddyurappa is excluded); but, frankly, one who is not so popular in his state that he cannot be spared from electoral politics. If the BJP's presidential candidate, Uttar Pradesh's Ram Nath Kovind, is a defensive attempt to prop up Modi's winning coalition in the North, of which Dalits are a crucial part, then Naidu is likely his attempt to recover what remains of his southern strategy.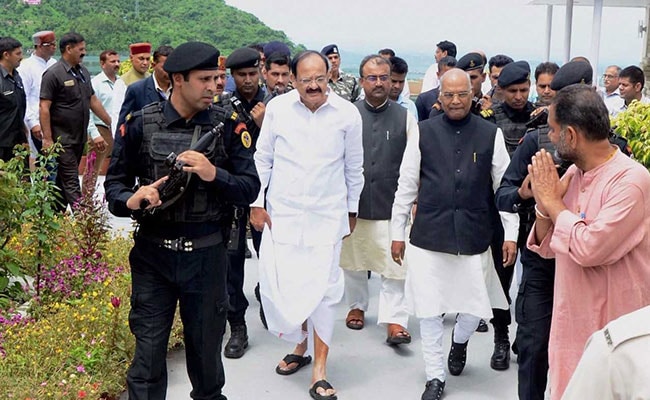 The big story of the past year has surely been that the BJP has begun to stumble in its attempts to expand. Its Hindi-Hindu-Hindustan DNA has begun to reassert itself. Beef bans and Hindi signboards are inevitable consequences of empowering hardline Sangh Parivar
pracharaks
. But this means an end to the happy confidence of a year and some ago - confidence that Modi's popularity would ensure that any losses in the north and west in 2019 would be made up for by gains in the south and east. Naidu is a reminder to the non-Hindi heartland that the BJP is willing to make place for, and even to advance to high posts, non-Hindi speakers - even non-vegetarians.
Still, if that's the reason, I can't really suppose Naidu is the best possible choice. This is the man, after all, who recently said that India cannot progress without Hindi - not the sort of sentiment likely to endear himself to a South that is rapidly rediscovering the power of linguistic politics and sub-nationalism. Naidu will hopefully carry out his duties competently. But the additional burden he will carry, of being an ambassador for his party and ideology to the region of his birth, may be too much for him to bear.
(Mihir Swarup Sharma is a fellow at the Observer Research Foundation.)
Disclaimer: The opinions expressed within this article are the personal opinions of the author. The facts and opinions appearing in the article do not reflect the views of NDTV and NDTV does not assume any responsibility or liability for the same.