As the Bharatiya Janata Party wins election after election, India's oldest political party, the Congress, which still fancies itself as the principal opposition, faces a crisis of credibility and leadership.
Rahul Gandhi as Vice-President has been unable to provide any kind of leadership to the party which has seen serial desertions of leaders and others who are still hoping for a political future. Those who remain, squabble in public, take pot shots at each other and the occasional jab at Gandhi. Like senior leader Sheila Dikshit's comment after the Delhi municipal election loss that she was never asked to campaign by Gandhi favourite Ajay Maken and that "Gandhi should go to office for a couple of hours".
While Dikshit's was a genteel understatement, it does underscore the fact that Gandhi is still not a 24/7 politician and has a curriculum vitae that is blank. Apart from a solitary 2009 win in Uttar Pradesh, Gandhi has been unable to win a single election for the congress. Yet the party has never held him accountable. State chiefs such as Raj Babbar after the UP debacle, Sanjay Nirupam after the Mumbai rout, Maken after the Delhi crisis all offered their resignations, but the buck never stops with Gandhi.
So much so that the party currently resembles a cult devoted to protecting one family. On the condition of anonymity, a Congress leader complained, "We have one job - that is that no blame should ever fall on the family".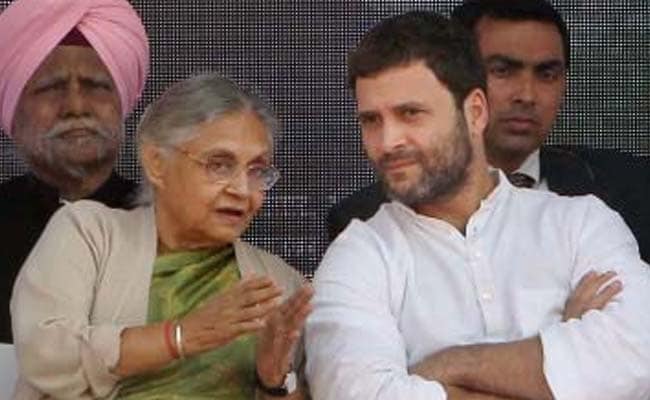 Digvijaya Singh, former Madhya Pradesh Chief Minister who was once regarded as Gandhi's political
"guru"
, fell from grace in 2012 after repeatedly going against the party line such as on the Batla House encounter in September 2008 against Indian Mujahideen (IM) terrorists, in which an inspector lost his life. Mr Singh demanded a probe despite then Union Home Minister P Chidambaram saying the encounter was genuine. Singh has repeatedly raised the issue of "saffron terror" and lands the party in uncomfortable hot spots - this week, he
accused
the Telangana police of encouraging Muslim youth to join global terrorist outfit Islamic State. "Tell me a single statement of mine which has harmed the Congress party or the Gandhi family. I have spoken against all kinds of extremists. You in the media highlight only one type."
Apart from his controversial statements, it is his mishandling in Goa, where the Congress failed to form the government despite winning the most seats, that has led to him losing charge of the holiday state along with Karnataka. "I remain faithful to the Gandhi family. Whatever decisions they have taken, I accept" he told me.
Others such as nine-time member of parliament Kamal Nath are less understanding. Frustrated at Gandhi's lack of leadership, 70-year-old Kamal Nath, it is believed, plans to do an Amarinder Singh on Gandhi - he wants to be given full charge of the Madhya Pradesh Congress or could revolt, just as Singh planned in Punjab.
As rumours swirled that he would join the BJP, Kamal Nath recently met Congress President Sonia Gandhi with Digvijaya Singh and the third contender for running the Madhya Pradesh campaign, Jyotiraditya Scindia. Now a decision has to be taken on who will be the main man for the party for the election that's due in next year in the state. Notice that like in the case of Amarinder Singh, it took Sonia Gandhi's intervention to defuse the situation - it was only after this meeting that Kamal Nath publicly refuted the rumours that he was joining the BJP.
Sonia Gandhi has often expressed a desire to retire to a cottage in the hills and hand over charge of the party to her son. But with Rahul Gandhi unable to establish a equation with senior leaders of the Congress, or those of other parties, she's repeatedly having to return as the interface like with the plan for a joint opposition candidate for President, seen as a precursor to a possible
mahagathbandhan
of the opposition for the 2019 general election.
With the Congress party deciding to contest zila parishad or local body elections alone as announced by state chief Raj Babbar on May 1, the fate of Rahul Gandhi's alliance with the Samajwadi Party is obvious. Perhaps that's why he was absent from Akhilesh Yadav's side when he accepted defeat in Uttar Pradesh. It made for terrible optics and looked like Gandhi was running away from accepting responsibility for his share of their alliance's defeat. This time around, Sonia Gandhi has led the talks. Last month on April 21 she met the CPI(M) general secretary Sitaram Yechury to discuss the possibility of "like minded parties" fielding a common candidate for the Presidential poll. Gandhi is also likely to meet Nitish Kumar and Lalu Prasad Yadav to discuss a
"mahagatbandhan"
while roping in Bengal CM, Mamta Banerjee and Mayawati to take on the BJP.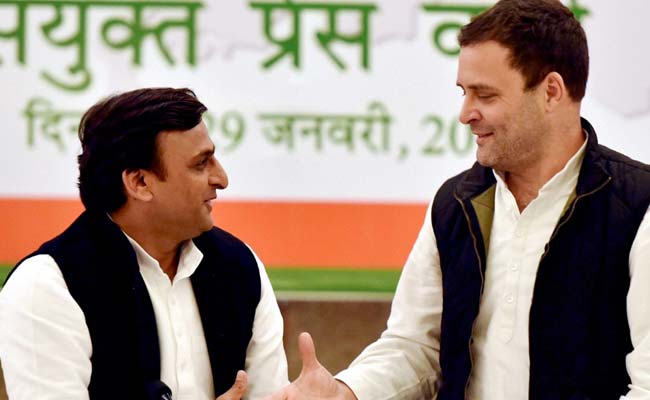 Even when the report on to Robert Vadra's land deals in Haryana was leaked last week, forcing Priyanka Gandhi to qualify that her land transactions in the state are not linked in any way to her husband, Rahul Gandhi maintained a conspicuous silence. A senior Congress leader who asked not to be named, vented, "At least Modi takes decisions, whether good or bad is debatable, but he is perceived as decisive. What kind of leader is Rahul? He hops from issue to issue. One day he says he will burst Modi's bubble on corruption in demonetization and is unable to come up with any proof. We got Prashant Kishor on board in UP, yet listened to none of his advice. The BJP has already kicked off (its campaign) in Gujarat, we still don't even have a strategy in place. If Rahul had not upset Himanta Biswa Sarma by treating him with utter contempt, we would have won Assam. That win truly gave the BJP unbeatable momentum."
That is the Congress' problem in a nutshell. The party rules barely six percent of India - the lowest since independence. The only large state it governs is Karnataka which will vote early next year. The party is completely wiped out from the northern heartland of the country as well as the central and eastern parts.
As party leaders admit, young people are not joining the party and strong regional leadership, which is the only recipe for winning elections, is anathema to the high command which is surrounded by rootless Rajya Sabha wonders.
An entire generation of talented grassroots leaders such as Sachin Pilot, just recently given a free hand in Rajasthan, Jyotiraditya Scindia, and Sarma, who left, are not being allowed to to take over states and provide a strong opposition to the BJP.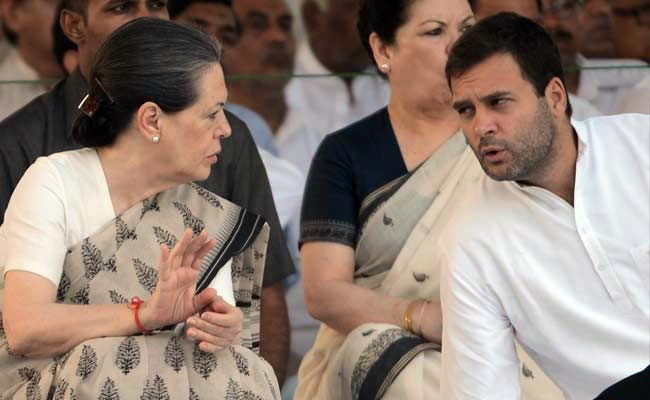 "The Gandhis only seem comfortable with time-servers such as Mohan Prakash, a Rahul favourite, who comfortably coast from defeat to defeat. Yet, if you hold an AICC session today, everyone will support Gandhi and demands will be made to make him President. It's time that he woke up and realised that either he should provide leadership or get out of the way. The party will keep losing elections, yet the Gandhi grip is such that it (the party) will still not revolt. Leaders who care about their future will just walk out," said a Congress leader. Even Digvijaya Singh concedes "we need strong regional leadership", a point made also by Amarinder Singh who won Punjab for the party.
Apart from the crisis of leadership, the Congress lacks a convincing narrative, a story the people want to hear. Gandhi has blindly opposed Modi on everything, yet never told India what he stands for or what the party believes in.
Earlier, the party was seen as stoutly mainstream; now, on a host of issues including the "surgical strikes" against Pakistan and even the JNU issue, it is seen as fringe, as Modi and Shah are pushing it to the edge on the issue of emotive nationalism. So even the Delhi municipal election was fought on Modi's name and nationalism, while the Congress was unable to highlight the incumbent BJP's horrific civic record.
Whether it is
gau rakshaks
, the huge crisis in Kashmir, relations with Pakistan, the Congress is unable to get its act together and counter the BJP. The Congress now does not even claim credit for its ideas such as Adhaar and GST, both vehemently opposed by the BJP while in opposition, and now being implemented to large acclaim.
Beside his one rhetorical flourish of
"Suit Boot Ki Sarkar"
and getting the land acquisition act nixed, Gandhi has been unable to corner Modi with any clarity.
With the numbers set to change in the Rajya Sabha after the BJP's UP win, the BJP will soon be an all-dominant party. India desperately needs an opposition. At present, it's a gaping vacancy.
(Swati Chaturvedi is an author and a journalist who has worked with The Indian Express, The Statesman and The Hindustan Times.)
Disclaimer: The opinions expressed within this article are the personal opinions of the author. The facts and opinions appearing in the article do not reflect the views of NDTV and NDTV does not assume any responsibility or liability for the same.