Funny. Nobody is interested in what the luminous and radiant Duchess of Cambridge had to say during her whirlwind trip to India. But everybody wanted to know what she would wear during her packed schedule. Fashion hawks scrutinised, deconstructed and dissected each royal frock as if the future of what's left of the empire depended on the length of her hemline, or the fit of her carefully selected outfits. Did she pick them herself...or, like in the case of our Bollywood stars (dressed uniformly hideously at the gala reception), does the tall, statuesque "Catherine" (as her obviously besotted husband addresses her), obediently wear what her stylist sources?
Take the much-photographed Jenny Packham royal blue gown, with beadwork - of course, she looked gorgeous. Because, she is seriously gorgeous. Kate would look gorgeous in a sack. Does that make the dress gorgeous? Nah. Honestly, there is a busy
gali
right behind the Taj Mahal Palace Hotel (where the royal couple stayed in a modest 700-pounds-a-night suite), which is crammed with beaded,
chaka chak
outfits much like this one. It has always catered to Arab tourists and used local embroidery-
walas
to create glam
abayas
that made sure the ladies stayed appropriately covered up. Perhaps Kate's stylist mixed up the destination. Honey, the Duchess was in Mumbai, not Abu Dhabi.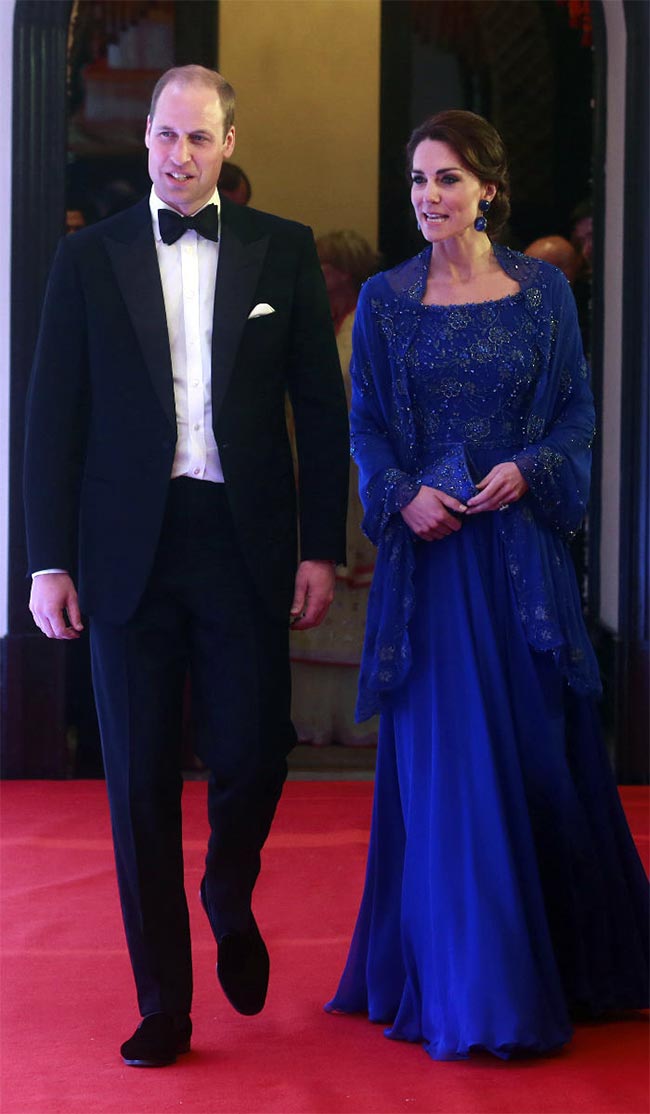 The blue dress was neither peacock nor entirely Cerulean but attractive enough if a tad over-conservative for a blingy, OTT Bollywood night with our star Divas going flat out to impress the royals. In our own family, we had conducted a straw poll - would the Duchess opt for a black gown or blue? Two said blue. The children thought black. I thought: What? No tiara?
And this was the start of her evening engagements. Earlier, she had shown off her "
patli kamar
" to advantage in a weather-appropriate, hand-block-printed summery dress. Not Anita Dongre's most inspired look. More Anokhi and Fab India; a bit of Fashion Street too. But she looked fresh, carefree and young. While the blue, peculiarly shaped and caped gown aged her by 20 years, she looked ready to wow young entrepreneurs in a smart, white Emilia Wickstead outfit. It was the sort of dress any "take me seriously" working female professional would opt for when she goes schmoozing with the boys to local pub during happy hours.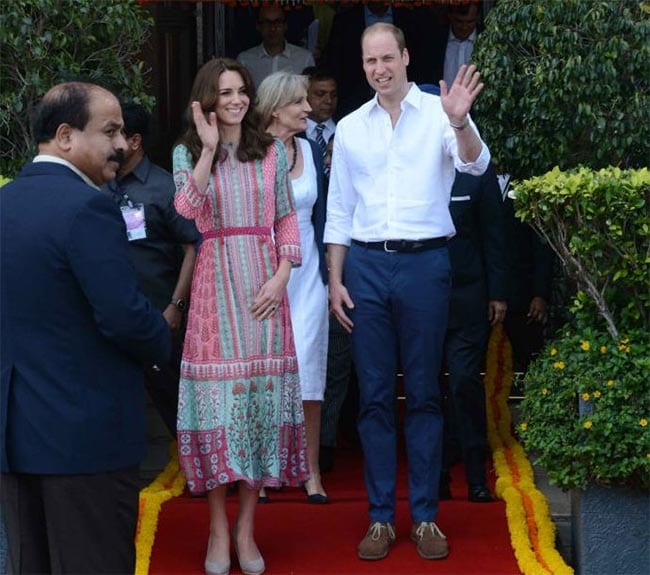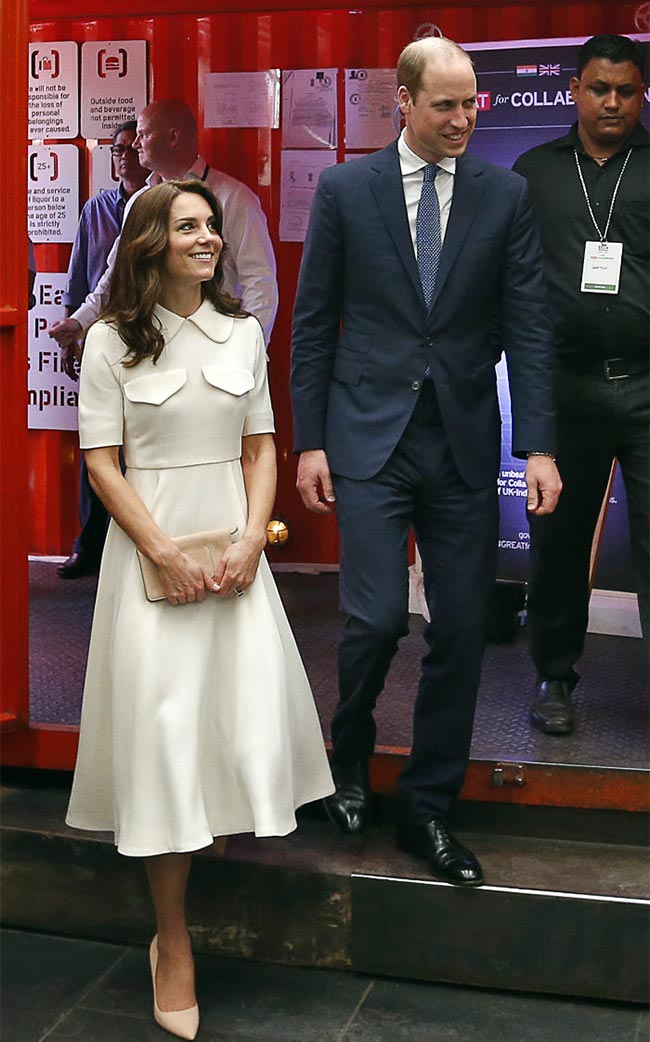 So far, her most successful fashion outings have been in very Brit, very today dresses - like the perfectly tailored black-and-white Alice Temperly dress she wore to the British High Commissioner's garden party in Delhi. I wish it had been more flirty, though. Kate does severe very stylishly, but she does floaty chiffon even better.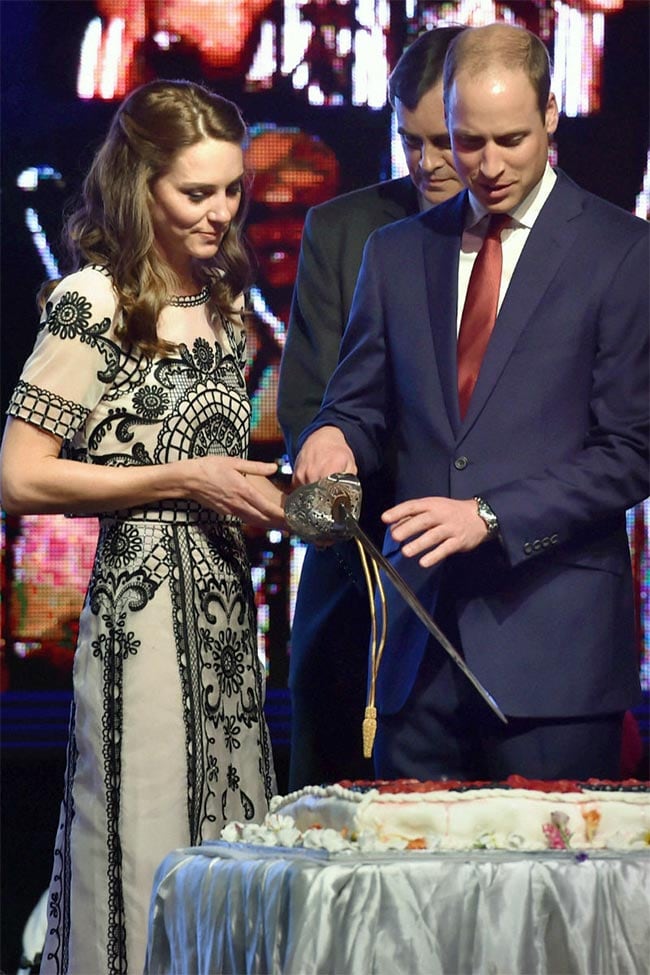 Narendra Modi's pristine white, smartly fitted ensemble, stylishly set off with a baby pink
bundi
jacket made a bigger statement than Kate's
pheeka
wishy-washy aqua dress. Her expression was equally listless. There wasn't a touch of saffron in sight. It was so
theek hai
as to be boring.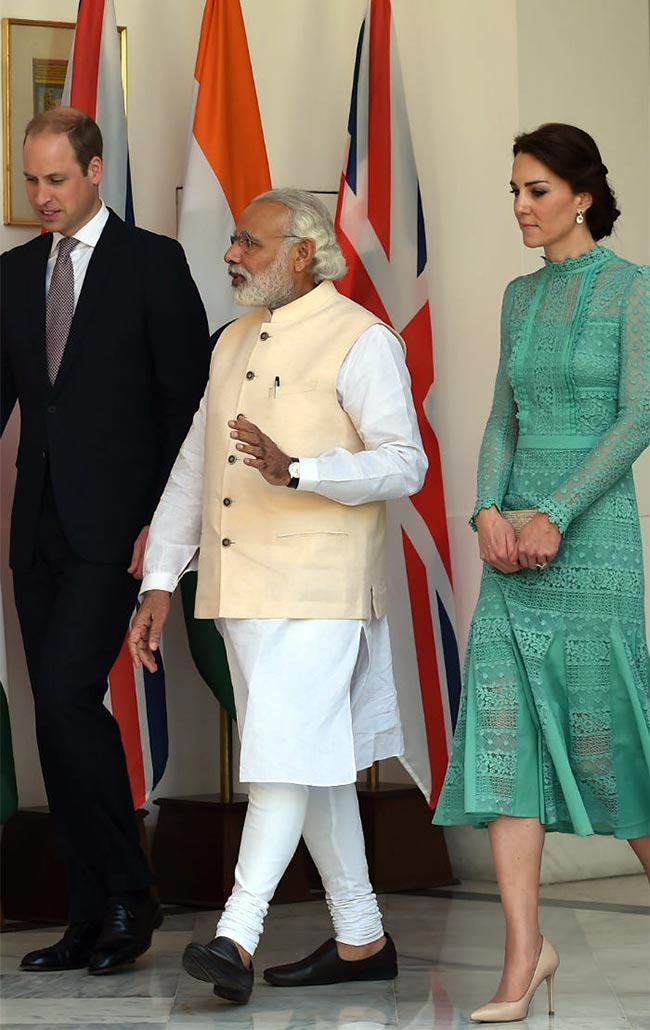 But by far, the worst dress on display so far, has to be the Alexander McQueen. Excuse me - what was that? Those paisleys and
kairis
and what nots going all over the place. The bright red background which made Kate look rather pale, and the strange cuts and contours! This was India's first glimpse of the yummy and gracious Duchess as she stepped out into the bright Mumbai sunshine. Perhaps, a pastel day suit in linen would have done the trick.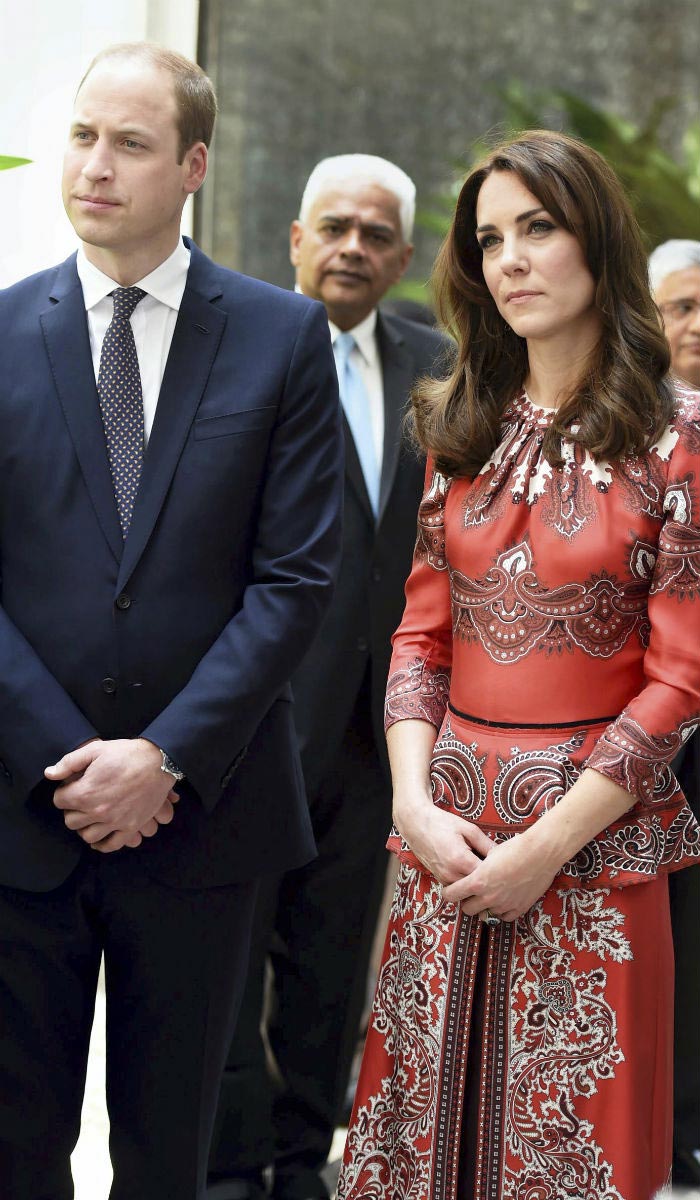 Khair
, let's count our blessings,
ji
. Kate has skipped wearing a saree. Her waist is perfect for crinoline ball gowns from "Gone with the Wind". But a saree needs curves. A saree demands a derriere. Kate has none. Thank God, some misguided fashion guru has spared her and us so far. Now, I am keeping my fingers crossed she isn't polite enough to say "Okay" to advisers who may want her to wear a
lehenga
during the ultimate photo-op in front of the ultimate Monument to Love - the Taj Mahal.
This
Raja Rani ki kahani
comes with a happy ending. God bless William and Kate. And yes, thank you, Will for discarding the cummerbund and sporting an open jacket.
YehIndiahai, bhai
. Tuxedos are penguin suits favoured by the brave.
Yahan toh
we are slaves to the weather. And you looked hot enough just the way you showed up at the reception, projecting the right amount of British nonchalance into what could have been an unbearably stuffy evening.
Of course, Mumbai fell in love with the ravishing royals. Next time, Kate, forget protocol and wear your heart on your sleeve. There can be no bigger fashion statement than that!
(Shobhaa De is an established writer, columnist, opinion shaper and social commentator, who is considered an authority on popular culture.)
Disclaimer: The opinions expressed within this article are the personal opinions of the author. The facts and opinions appearing in the article do not reflect the views of NDTV and NDTV does not assume any responsibility or liability for the same.